Autumn Landscape Scene
A Simple Fall Landscape Scene With Aerial Perspective
An easy lesson that shows how to paint a simple autumn landscape scene, using warm colors and the effect of aerial perspective.
In this video we'll paint a fall landscape scene and, again, explore the techniques that help depict aerial perspective in a landscape scene.
Depicting aerial perspective is pretty easy with some simple rules: Objects in the distance are lighter and cooler, their color is less intense, and there is less detail.  Objects closer to us are just the opposite: they are darker, warmer, and brighter and there is more texture and detail.
We'll work on all of those things in this video lesson.
What You'll Learn
Create Distance/Aerial Perspective – use shifts in color, value and temperature to depict the sense of space and distance – this is aerial perspective
Rough brush – using the side of the brush with a light touch; this is especially effective for creating rough texture for weeds, grasses and rough patches of earth
Gradation – simple gradual changes in color on ground planes simulate subtle light effects
Watercolor Techniques and Ideas Used
This lesson is based on two basic watercolor techniques and
Dry-Brush

 

(FREE Lesson) – or rough-brush technique is effective at creating rough textures. Combined with proper Direction of Stroke, rough texture is effective at depicting a range of light effects, subjects, surfaces and more. This is an ESSENTIAL technique for any watercolor artist.
Wet-In-Wet

 

(FREE Lesson) – this basic technique is key to creating soft textures that create the look of spray and mist
Side-brush stroke – using the side of the brush with a light touch; this is especially effective for creating controlled rough edges
What you'll need:
DOWNLOADS : DRAWING LAYOUT AND FINISHED PAINTING IMAGE [/mepr-show]
This is a Premium Learning Library Lesson.  Access The Entire Library  With a Premium Membership – Cancel or Pause  at any time.  
More Premium Member Info Here.
 Already a Premium Member? Login Below
Just browsing? Check out these FREE lessons.
Landscape Painting Lessons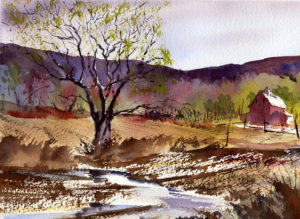 In-depth tutorials with step-by-step instruction. The lessons are sorted by season and skill level – easy, intermediate and advanced and note the skills learned in each.
All lessons include explanations of the "how's" and the "why's" along with demonstrated actions and techniques.