Full Moon Light On Snow

 An In-depth Painting Tutorial On Handling Light-Dark Contrasts
This watercolor lesson shows you how to paint a dramatic moonlit winter landscape scene. The key to any night scene is in balancing the dark and light areas. Learn how in this lesson.
The Winter Solstice is nearly upon us! So, it's the perfect time to try our hand at a dramatic winter night scene.  If you've ever had the good fortune to witness bright full-moon light on snow, you know the magic wonder of winter nights.
The most difficult thing about painting a winter night scene is balancing the bright light values of the snow, with the deep darks in the surrounding landscape. For the most part, night scenes are based on low-key value arrangements. But, with moonlight on snow, there is a good bit of very light value as well. Too much contrast and the painting can fall apart.
In this video, we'll use a Value Composition Sketch to help with two things: define the major shapes that will form the structure of the composition; and decide what values will go where – using the dominance of dark values to highlight the lights of the moonlit snow fields.
Value Composition Sketches
We have a Value Basics Learning Track with fourteen lessons. They cover the basics of Value and two important uses for the artist. Included in the Learning Track are ten lesson on creating thumbnail value sketches – aka Value Composition Sketches. There are few better ways to improve your paintings than learning to compose your picture plane with a few large value shapes.
Color Scheme
One of the main objectives of this lesson is to transpose value as defined in the Value Composition Sketch into. Since it is a winter night scene, there is relatively little color. It's a great opportunity to work with an Analogous Color Scheme, based on a narrow range of blues. 
What you'll need:
Brushes – Medium Round, Small Round.
DOWNLOAD – LESSON INFO SHEET 
This is a Premium Learning Library Lesson.  Access The Entire Library  With a Premium Membership – Cancel or Pause  at any time.  
More Premium Member Info Here.
 Already a Premium Member? Login Below
Just browsing? Check out these FREE lessons.
Value Sketch For Winter Night Scene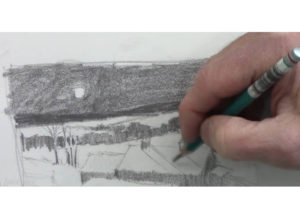 The value composition sketch for this lesson is available as a separate lesson.
Value Composition Sketches have many 'values' for the artist. This lesson goes through drawing and thinking process when creating a Value Composition Sketch.
Street Corner Night Scene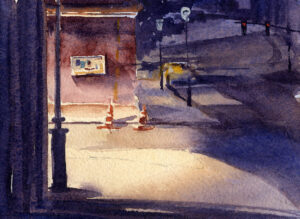 This lesson shows how to paint another night scene.
This one is more conventional, featuring the complex lighting that happens when many artificial light sources interrupt the enveloping darkness.
This kind of scene and subject is complex, so the lesson shows how to uses a Value Composition Sketch to help organize and simplify the painting.
Landscape Painting Lessons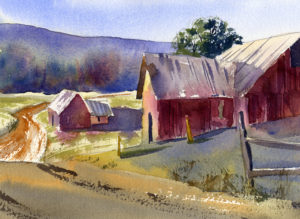 Seascape Painting Lessons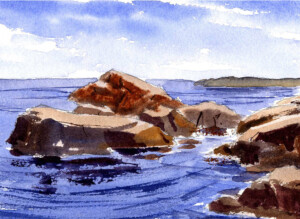 Still Life & Floral Painting Lessons