Value Sketch Process

A Simple Arrangement Of Light And Dark For Drama and Mood
This video lesson steps through the process of creating two simple value arrangements for a winter landscape scene with quiet drama. It is common to get caught up in and trying to duplicate every element and detail when creating a painting.  This is literally impossible.
Instead, it is the composition and placement of large shapes and assignment of broad, consistent value to each form, dimension, distance, and light.
Simple Value Composition For Visual Power
The visual power available in simple value arrangements is quite astonishing. It is hard to believe the visual potency that results from reducing representational subjects to simple abstract arrangements.
When creating a painting and trying to accurately represent a particular subject, we often get caught up in trying to duplicate every last detail, believing it is those which will best reveal our subject. In fact, our task is to design our picture with a dynamic group of shapes that have both color and value. The power and dynamism of our painting relies on our compositional ability – beginning with the ability to divide the space contained within the borders of our paper in a pleasing, if not eye-catching way.
The first step in this process is to design the larger abstract shapes and determine their value before approaching paper with brush and color.
From Objective Elements To  Abstract Shapes
All dynamic painting compositions are built on a foundation of shape and value.  Usually, the underlying composition includes just a handful of shapes with well-defined value.
One of the objectives in the value sketch is to simplify the value shapes to as few as possible. In this case, we have three big value shapes – one in the foreground, one in the middle ground, and one in the background.  This is one of the simplest ways to arrange values for successful paintings, yet it is a timeless approach, used by artists for hundreds of years.
As the sketch proceeds, it will be obvious that to create large, simple value shapes, we must combine individual elements – or portions of them – together within the larger value shapes.  In essence, we are creating abstract shapes by combining the objective shapes – the 'real' elements we are trying to represent in our painting.
What You'll Need:
Simple line drawing of the scene – download the layout from the button below
Value Scale – any that you have will do or make one with this lesson – Five Step Value Scale
Sketchbook or loose paper and a 2B pencil
This is a Premium Learning Library Lesson.  Access The Entire Library  With a Premium Membership – Cancel or Pause  at any time.  
More Premium Member Info Here.
 Already a Premium Member? Login Below
Just browsing? Check out these FREE lessons.
Quiet Winter Landscape Painting Lesson
This lesson steps through painting a winter landscape scene based on the value sketch above.
Going from value sketch to color painting is a challenge. Once working with color, our thinking reverts back to reliance on what we  know – or think we know – about the subject.
The first thing to know and remember is that your painting is not a duplication or re-creation of the scene or subject. It is purely and completely an exercise in design and illusion.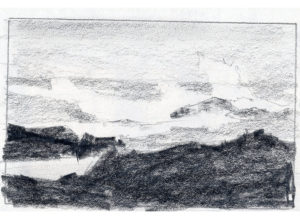 Value Concepts – Learning Track
This learning track consists of lessons meant to give you a good understanding of the basic concepts of value along with an introduction to using value effectively in your work.
Value is arguably the most important characteristic of color for the artist to consider.  Learning to simplify and group value shapes together is key to strong compositions. This Learning Track will get you started.