Painting Early Spring Trees
Paint The Structure And The Beginnings Of A Leaf Canopy
This lesson is about painting a tree in early spring, and especially the subtle difference between the look of trees between winter and spring. 
Easy techniques for great looking early spring trees
In early spring, trees look much like they do in winter. The difference is that budding leaves create a blush color at the end of branches. The effect is easy to capture in watercolor with a specific brush technique that leaves soft and rough textures for subtle representation of budding stems.We'll add a little dimension to the trunk and branches.
It's all easy techniques that leave a great, professional result.
Note On The Drawing Layout
The drawing for this painting is simple and can be traced or drawn free-hand.  You'll see that the lines on my drawing layout are fairly dark so that you can see them on the screen. But, I recommend drawing them lightly since we will be using mostly light colors and values in this painting.  It isn't a big problem if the pencil lines show through a watercolor painting, but sometimes they are distracting.
What you'll need
Medium round, small round, rigger
A couple simple mixtures – Cobalt Blue and Burnt Sienna for the tree trunk and branches, Cobalt Blue and Raw Sienna for the buds
Watercolor paper – preferably Arches 140lb Cold Press about
This is a Premium Learning Library Lesson.  Access The Entire Library  With a Premium Membership – Cancel or Pause  at any time.  
More Premium Member Info Here.
 Already a Premium Member? Login Below
Just browsing? Check out these FREE lessons.
Try This Landscape Project Next!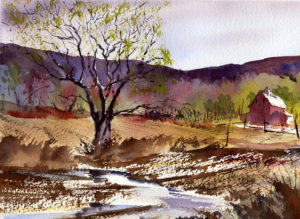 Here's a lesson where we paint a landscape scene the way it might look in early spring.
Early spring is not the most popular season to paint. The colors are mostly dull, the landscape is untidy with leftovers from winter, it's often overcast like in winter and some of the elements can be difficult to paint. 
This lesson may change your thinking on early spring as the source of inspiring scenes. 
You'll get a chance to paint an early spring tree along in a scene with other elements of the spring landscape – mud, mudpuddles, fallow fields and even some color in the budding trees.