Paint a Seacape In Fog In This Watercolor Lesson

Lots of wet-into-wet and drybrush technique along with neutral grays gives up the look of a foggy morning at the shore. Learn how to paint fog in a seascape in this lesson.

TRY A PREMIUM MEMBERSHIP FREE FOR 7 DAYS!
After that, just $12.99/mo
ACCESS TO ALL LESSONS!
This lesson can be watched with at least a PREMIUM MEMBERSHIP.
Already  a Basic Member?  Upgrade to PREMIUM from your Account Page.
Already a Premium Member?  Click here to login  
Not a Premium Member yet? Join below.
Fog and Mist
This watercolor painting really features grays and neutral colors. It's a great color recipe when painting a foggy day, whether it is a seascape or a landscape. Our palette is limited to just three colors and we'll use those for our gray and neutral mixture.  The sky and background will be light and soft to keep it looking like it is in the fog.
Drawing Layout For Any Painting
The downloadable layouts are done with heavy lines to make it easy to see and copy onto your watercolor paper. It is best not to draw the lines too heavy on your paper, especially in the sky, since there is a good chance the lines will show through the paint. It's not a deal-breaker, but those heavy pencil lines are sometimes a distraction.
What you'll need
 Get ready, turn on the video and let's jump in!
Mixing Grays & Neutrals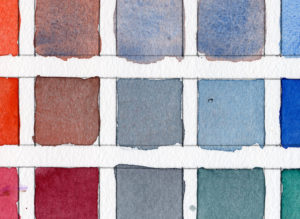 Learn To Mix Grays and Neutral Colors In Watercolor  Learn how to mix beautiful, transparent grays and neutral colors in ...
Read More