Early Morning Light Landscape Painting Lesson
In this lesson we'll paint a rural scene in the light of pre-dawn. Color is muted in this kind of light, so we'll concentrate on getting neutralized, low-intensity colors into our landscape with a very limited color palette. We use easy techniques and a methodical layered approach.
Painting The Light Of Early Morning In Watercolor
This lesson shows you how to paint a farm landscape in the light of pre-dawn.
The key to really showing light of the pre-dawn – or post-sunset – landscape relies on three things: muted colors, a narrow value range and having a good temperature contrast between the sky and the ground planes.  For this painting lesson, we use a very limited palette of colors. Two of them are already neutralized helps created the look of muted color in the landscape. We'll also work from a value sketch that is dominanted by mid-value.
We use easy, basic techniques and a methodical approach with built up layers to accomplish the look of pre-dawn light.
Mixing Muted Color
Any scene in low light will have a lot of muted, that is low-intensity or low-chroma, color.  This lesson offers a good bit of challenge and practice in mixing the muted colors you'll need for this otherwise simple, easy to paint scene. 
What you'll need
This is a Premium Learning Library Lesson.  Access The Entire Library  With a Premium Membership – Cancel or Pause  at any time.  
More Premium Member Info Here.
 Already a Premium Member? Login Below
Just browsing? Check out these FREE lessons.
Color In Watercolor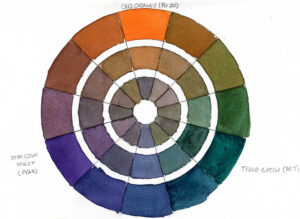 Color is an aspect of painting that can take a lifetime of study to really understand.  This section is meant to introduce you to the various aspects of color and simple ways to explore color schemes, color choices and color combinations for your paintings.
There are 25 lessons included in this section organized by topic and presented in to help build a strong foundation in the basics of color.
It's a good idea to start with the Characteristics of Color and work through the Color Wheel lessons, then Color Schemes and then the experiments with Primary Triads.  Once you have worked through all the lessons, you will have a solid base of color knowledge to build on.
Landscape Painting Lessons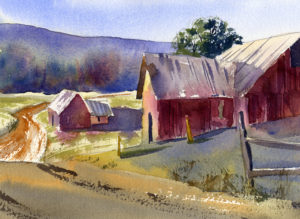 Seascape Painting Lessons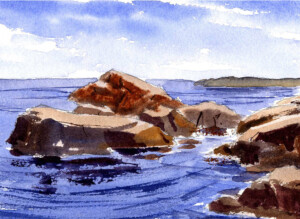 Still Life & Floral Painting Lessons