Landscape With Afternoon Light Watercolor Painting Lesson
Value Contrast Is The Key To Showing Light
If you only do one lesson – make it this one! This lesson will show you EXACTLY how to improve your paintings by starting with a simplified, abstract value pattern. And then sticking to it!
The ONE thing! That will dramatically improve your watercolor paintings!
There is one thing that will make more of a difference in your paintings than anything else – start with a simplified, abstract value composition that clearly defines large value shapes. It is an easy process but a difficult mental switch that requires you to think differently about what you are doing when you create a painting and to think differently about the subjects of your paintings.
In this lesson, we create a painting using a small value sketch that has been created from the photo of a really ordinary scene. The process of creating a painting while following the value sketch requires mental discipline in starting with the large, simple value shapes.
We go step by step in a very detailed way in this lesson.
What you'll need
Brushes – 1 1/2″ Flat, 1″ Flat, 1/4″ Flat, Medium Round, Small Round, and Rigger .
Colors – Permanent Alizarin Crimson, Daniel Smith Quinacridone Deep Gold, DaVinci Aureolin Mix, Cobalt Blue, Winsor Newton French Ultramarine Blue , Burnt Sienna
Watercolor paper – preferably Arches 140lb Cold Press cut to about 7″ x 11″ or so
This is a Premium Learning Library Lesson.  Access The Entire Library  With a Premium Membership – Cancel or Pause  at any time.  
More Premium Member Info Here.
 Already a Premium Member? Login Below
Just browsing? Check out these FREE lessons.
How To Paint Water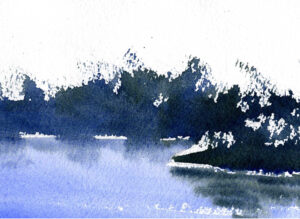 This set of lessons teaches the basic ideas, techniques and methods needed to get great looking water in your watercolor paintings.
Water is one of the more challenging subjects in to paint. It has several important characteristics to dublicate and it very complex - even the stillest of water is constantly moving.
These lessons will guide you through by showing what you need to know and demonstrating the techniques that work.
Landscape Painting Lessons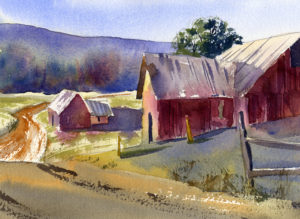 Seascape Painting Lessons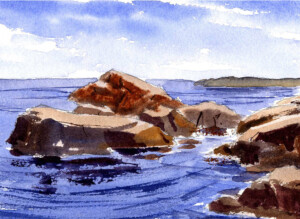 Still Life & Floral Painting Lessons