Learn To Paint A Winter Stream Landscape

This lesson shows how to paint a frozen winter stream landscape scene. We'll also focus on creating an eye-catching, interlocked composition showing warm glowing light.
Painting The Winter Landscape
It's easy to think of winter and winter lanscapes as bleak, barren scenes unsuitable for watercolor landscape painting. Really though, winter and winter scenes can have suprising subtle color. An added bonus is that snow covered fields set up dramatic value contrasts with almost every other element in the scene.
In this lesson we'll paint a frozen winter stream. The scene and setting is easy enough but we'll add a compositional structure that adds drama and interest. Just to make it even more interesting we'll add some light/shade and warm/cool contrasts.
The painting uses a basic, limited color set that works well for any winter scene.
Drawing Layout For Any Painting
One note on the drawing layout. The downloadable layouts are done with heavy lines to make it easy to see and copy onto your watercolor paper. It is best not to draw the lines too heavy on your paper, especially in the sky, since there is a good chance the lines will show through the paint. It's not a deal-breaker, but those heavy pencil lines are sometimes a distraction.
What you'll need
This is a Premium Learning Library Lesson.  Access The Entire Library  With a Premium Membership – Cancel or Pause  at any time.  
More Premium Member Info Here.
 Already a Premium Member? Login Below
Just browsing? Check out these FREE lessons.
Landscape Painting Lessons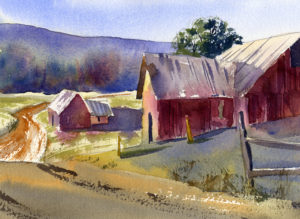 Seascape Painting Lessons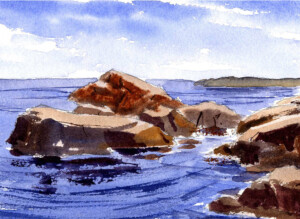 Still Life & Floral Painting Lessons