Paint Pink Tulips In A Glass Vase

This lesson shows how to paint a bouquet of pink tulips in a glass vase. We'll create light and dimensional effects using both value and temperature contrasts.
We will work on Rough paper to help us get subtle textural effects.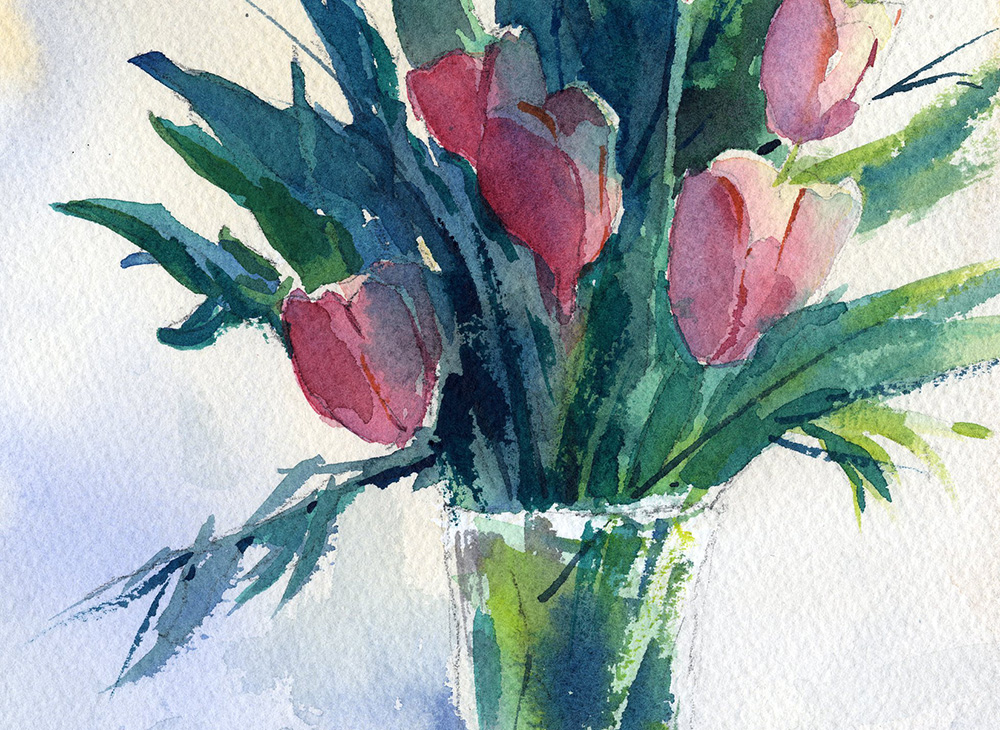 Tulips Are The Element
It's been a dreary, cool spring here in Vermont so I went to my  archives looking for inspiration.  I found an older painting of pink tulips in a glass vase. It's a very simple composition – very suitable for a solid, but not too long, painting lesson.  There is a challenge in making the pink blossoms look like tulips and making them look three dimensional.  For delicate blossoms, it takes some subtlety, especially in color changes to make them look right.
But Light Is The Subject
The subtlety is partially created by the soft light coming from above and to the right.  It is a delicate, subdued light that falls on the tulips themselves and it contrasts with some brighter light that seems to be falling on the table cloth.
In this lesson we'll work with a limited palette and use subtle contrasts of both value and temperature. This will help us capture the subtle beauty of the tulip blossoms and the quiet intensity of the light.
A Note On The Drawing Layout
The downloadable drawing layout has very dark lines. This is done to make sure you can see the lines through your watercolor paper and to get an accurate and complete transfer.  I recommend drawing lighter lines on the watercolor paper so that they will be mostly obscured by the paint.
What you'll need
 Get ready, turn on the video and let's jump in!