Paint A Spring Landscape And Sycamore Tree

The Sycamore tree is a large and beautiful tree. It has unusual bark and interesting branches. It's a little tricky to draw and paint.  We'll make it easy in this lesson.
For added practice, we'll plant our Sycamore along side a road in a country scene, painted to look like early spring.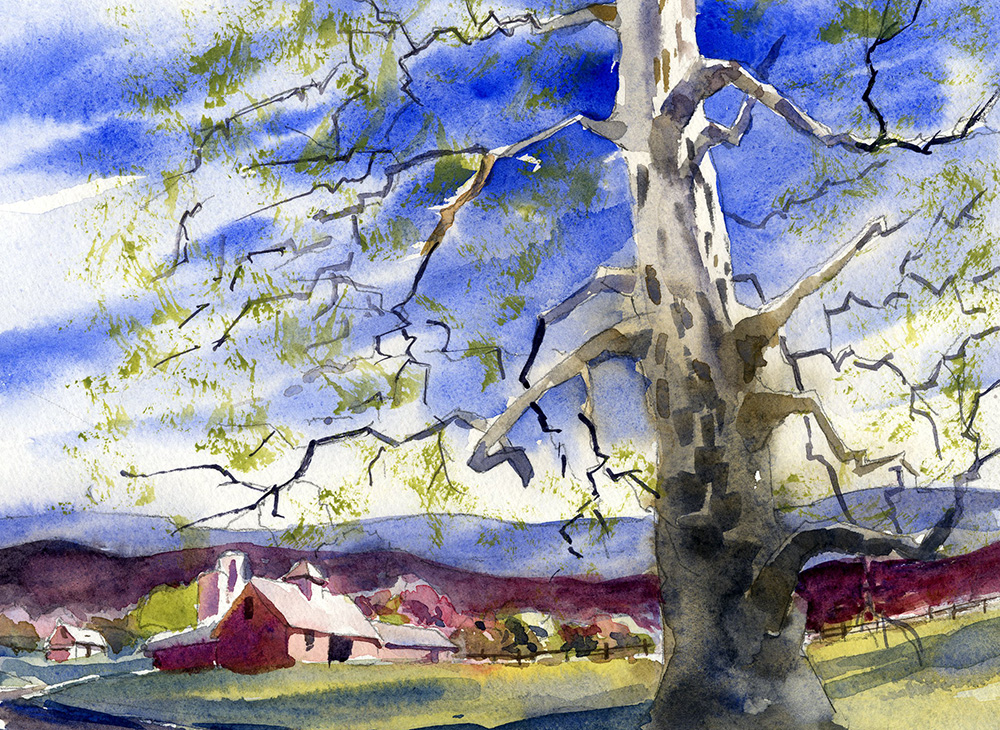 The Sycamore Tree
Sycamore trees are large and lovely trees. Usually they are massive in size with a single, large trunk that tapers quickly into the canopy.  Its bark is unual – uniformly dark at the base of the trunk and changing to a mottled light, creamy tan color.  The branches of the Sycamore grow out of the trunk at sharp angles. They also taper quickly and change direction also at sharp angles as they grow away from the trunk.
It is not really an unusual tree – they can be found in many places – but it is an unusual looking tree. It is also dramatic and fun to paint.
Our Painting Scene
This lesson really focuses on painting the sycamore tree. But, we'll plant it in an early spring landscape so that we can show off it's shape and beautiful, unique structure.
The branches of the sycamore can take crazy, angular twists as they grow. Getting these to look right means a careful drawing and careful painting as well.
Drawing Layout For Any Painting
One note on the drawing layout. The downloadable layouts are done with heavy lines to make it easy to see and copy onto your watercolor paper. It is best not to draw the lines too heavy on your paper, especially in the sky, since there is a good chance the lines will show through the paint. It's not a deal-breaker, but those heavy pencil lines are sometimes a distraction.
What you'll need
Get ready, turn on the video and let's jump in!