Paint Easy Landscape Scenes Watercolor

This is an easy lesson that everyone one should do! We'll paint six simple landscape scenes with a single brush and a few colors.
You'll really learn how to use one basic technique and getting the best from watercolor without realizing it!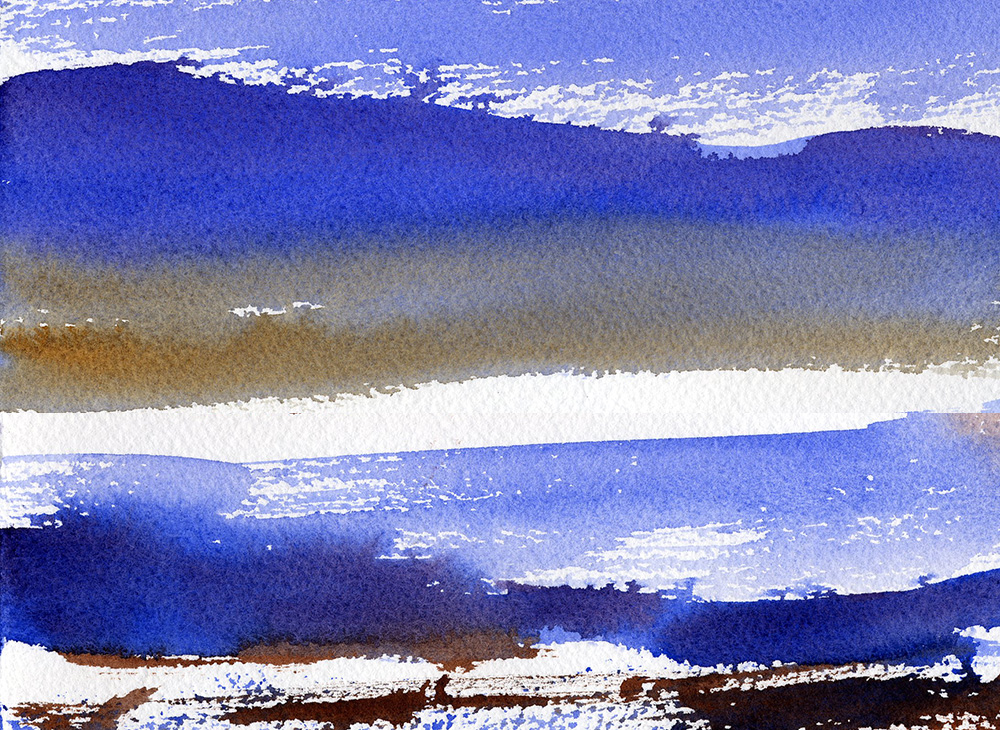 Sketches For Exploration and Learning
Sketching is one of the best habits to develop as an artist. Sketches and sketching really help you accomplish many different things at once.  First, sketching is a great way to explore a subject, technique, color, color mixtures, compositions, and more.  It is also a way to gain knowledge and skill without the pressure to be 'perfect', or at least not making too many mistakes.
Sometimes the sketches are even better than the paintings!
Lose Control
In this lesson, we will paint six small versions of a simple landscape.  We'll mostly be using the wet-in-wet technique with a little dry-in-wet as well. Those along with a single brush and a few colors will result in surprisingly beautiful landscape scenes.
Watercolor has two qualities that make it unique from any other painting medium: it is meant to be transparent when dry, and it is meant to flow loosely on the paper.   Neither of these qualities show up very well unless you work with plenty of water.  That is a scary proposition! We're afraid we'll 'lose control' of the medium and end up with color where we don't want it.
Our goal for this lesson is to learn how to get good effect with minimal effort. This is often referred to as 'economy' or 'economy of stroke. Economy is not an imperative for any medium. But, in watercolor, economy of stroke often means you've successfully balanced freedom and control. As a result, you have probably made the most of looseness and transparency as well. 
There are two other things to concentrate on:  letting color mix on the paper inside those fluid washes and getting good color strength in every stroke. 
Watercolor is best when given its freedom – as you'll discover in this lesson.
No Drawing Layout
Not only are we going to try giving up some control of the medium, we are also releasing ourselves from the control imposed by those pencil lines we usually draw on the paper.  Instead, we'll take an instinctive approach to this simple scene – we all know what the sky, hills and fields look like. We'll use that memory to guide us as we create shapes that represent the landscape on our paper
What you'll need
Get ready, turn on the video and let's jump in!
More Sketching Lessons
Error: View f3420bciu3 may not exist
Landscape Painting Lessons