Aerial Perspective In A Rural Scene

Aerial perspective is all about value change
In this lesson we'll paint a rainy day scene.  But,  we are really trying to capture the look of aerial perspective which is really exaggerated on rainy, hazy and misty kinds of days.
The watercolor medium makes this subject easier than you would think, but it is still a bit of an advanced lesson.   So, have courage and give it a try!
Aerial Perspective
Aerial perspective – also called atmospheric perspective – is a system used by artists to represent the effect of atmosphere on distant objects – in effect representing space and distance in our painting.
This lesson is primarily focused on really showing off that effect by applying aerial perspective. We'll make conscious decisions about the color and values we'll use on  shapes that represent distant objects.  To help out, we'll be painting a rainy day which has the kind of atmosphere that really exaggerates the effect.
Value Arrangement
There is a value sketch for this lesson that we'll use to guide us through the painting and really show off the aerial perspective.
The value sketch is very simple in that it breaks the picture plane into three areas of space and assigns a single value to each area.  In this case the light values are in the background, the middle values are in the middle ground and the darkest values are in the foreground.  This arrangement really supports the idea of aerial perspective as you'll see.
A Note On The Drawing Layout
One note on the drawing layout. The downloadable layouts are done with heavy lines to make it easy to see and copy onto your watercolor paper. It is best not to draw the lines too heavy on your paper, especially in the sky, since there is a good chance the lines will show through the paint. It's not a deal-breaker, but those heavy pencil lines are sometimes a distraction.
What you'll need
Colors –

Permanent Aliarin Crimson, Raw Sienna, Burnt Sienna, Quinacridone Deep Gold, Ultramarine Blue, Cobalt Blue

Watercolor paper – preferably

Arches 140lb Cold Press

 

cut to about 7″ x 11″ or so
This is a Premium Learning Library Lesson.  Access The Entire Library  With a Premium Membership – Cancel or Pause  at any time.  
More Premium Member Info Here.
 Already a Premium Member? Login Below
Just browsing? Check out these FREE lessons.
Value Sketch For This Scene
This lesson goes through the process of creating a very simple value sketch for this scene.
It's an easy lesson and provides good practice in the value composition sketching process.
Landscape Painting Lessons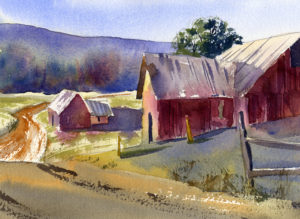 Seascape Painting Lessons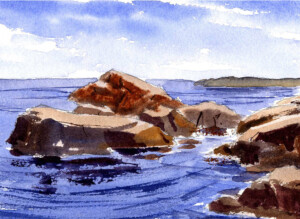 Still Life & Floral Painting Lessons