Paint The Early Spring Landscape In Watercolor
The early spring landscape is not a popular subject for painting.  It usually features a rough, ragged landscape in grays and browns with matted weeds and grasses and mud puddles everywhere.
What it also often has is warm sunlight! That first warm day in early spring is glorious and and full of optimism for the coming of spring and warmer weather.
In this lesson, we work on capturing those first beautiful rays of warm sunlight falling on the landscape.  We'll use rough paper to get some of the rough look of landscape and to get some sparkle and highlights in the scene.
The lesson is a little more advanced than most and requires a sure hand along with a good deal of confidence!
Materials Needed
Brushes – Large, Medium and Small Rounds, plus your Rigger
Colors – Raw Sienna, Burnt Sienna, Cobalt Blue, Ultramarine Blue, Cadmium Yellow
Watercolor paper – preferably Arches 140lb Rough cut to about 7″ x 11″ or so
Downloads
This is a Premium Learning Library Lesson.  Access The Entire Library  With a Premium Membership – Cancel or Pause  at any time.  
More Premium Member Info Here.
 Already a Premium Member? Login Below
Just browsing? Check out these FREE lessons.
Another Spring Landscape Lesson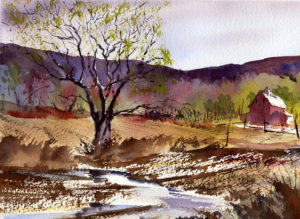 A fun painting lesson that looks tricky, but is based on easy, basic techniques.
Learn to capture the look of early spring in this lesson. It has everything – bright yellow greens of budding trees, the sparkling look of muddy, wet roads after a spring rain, light reds in flowering trees, and even slightly unsettled weather. Use a whole range of techniques to get realistic looking spring "bud" greens, paint the lacy look of buds on tree with and show a slippery, muddy road.
The landscape in early spring shows the leftovers of winter and the signs of life and change that will become summer.
It's a challenging project but still uses basic watercolor painting techniques: wet-into-wet, dry-into-wet and drybrush.
Paper Primer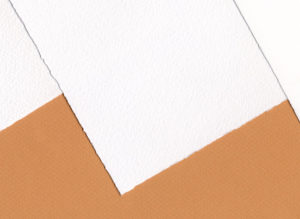 The lesson above is painted on Rough Paper. 
Watercolor paper has several characteristics that affect the way the paper works when you paint on it. In this short lesson, we go over the important factors so you'll know what paper to get for your kind of painting.
There are many different brands, weights and surfaces available but they are not all the same.
In this short tutorial lesson, we go over the important characteristics of watercolor paper.  We only cover professional grade paper – if you're not sure what that means, we cover it in this lesson.
Landscape Painting Lessons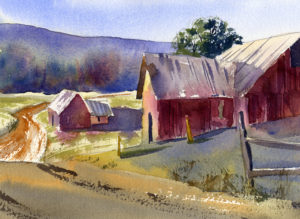 Seascape Painting Lessons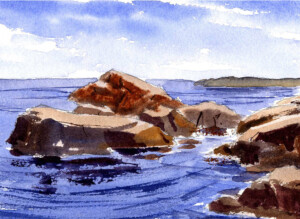 Still Life & Floral Painting Lessons