Watercolor Works!
Online Class – Thursdays, August 5 – 26, 2021 – 6 to 8pm Eastern Time
THIS CLASS IS GREAT FOR BEGINNERS AND ANYONE STRUGGLING WITH THIS TRICKY MEDIUM
FEE $225 – REGISTER BELOW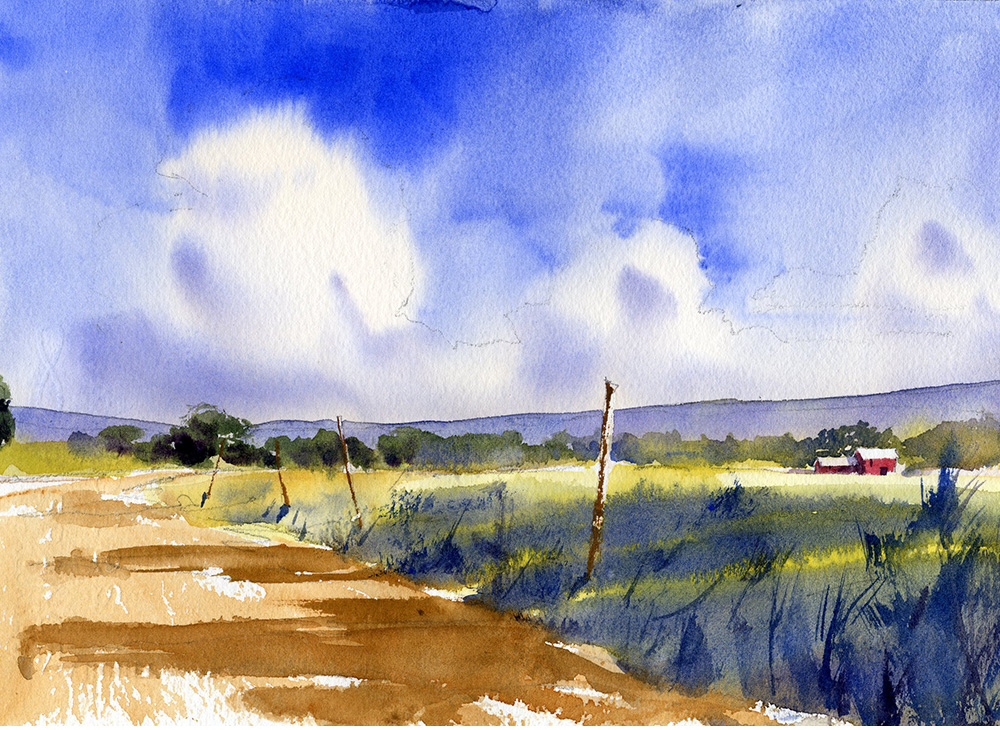 The Watercolor Painting Class To Get You Started
Watercolor is a beautiful but tricky medium! Its unique beauty is an expression of the combination of water and the paint which is meant to 'flow' and be transparent when dry.  Getting the best from watercolor means learning to handle this dynamic. Learn that and some important basics of color and composition.
Class Info
Each class includes some pre-class work that is submitted for instructor critique, the in-class work and access to a recording of each class.
Week 1 – Basic Techniques – This class focuses on three important basic techniques. Getting a handle on these makes everything else much easier! Pre-class work includes practice exercises for each technique. In class, we'll work through a painting project, using the basic techniques. We'll use these same three techniques every week.
Week 2 – Color –  Learning about Color is an overwhelming task. This class eases us into two important concepts about color and the benefits of working with a limited palette. Pre-class assignments will have you practice some color mixing and paint a couple small landscape scenes.  During online class, we'll look at color mixing and landscape painting exercises.
Week 3 – Basic Composition – In this class we learn a couple easy composition "rules" that will strengthen your paintings from right from the start. Pre-class work introduces the simple rules and a couple exercises to re-inforce the principles. In class, we'll review pre-class assignments and paint a well-composed landscape scene.
Week 4 – Making it work – The first three classes focused on the important basics of watercolor painting: solid basic techniques, a basic understanding of color and value, and two simple composition guidelines. It's not always evident in the finished work, but you can bet that any dynamic, eye-catching painting is a combination of good technique and solid composition.  This week, we focus on a simple way of developing solid and dynamic compositions using small preliminary studies.  This is one of the most important and most-often overlooked parts of the painting process.
If not already a Watercolor Methods member, you'll set up a new id and password when registering.
If already a Watercolor Methods member, your name will show up on the form below. If not logged in, please scroll down to the login form and login first.
Your id and password will provide access to the class page and each week's info and lessons.