Three Basic Textures For Watercolor Painting

This tutorial shows how to create each of the three basic textures. Using them well provides a visual richness in your paintings.

Three Textures
There are only three textures that can be created with paint and a brush: hard, rough and soft.  Although it seems impossible, these three simple expressions – used skillfully – more than suffice as substitutes for the wide and complex range of texture found in the real world.
Internal and Edge Texture
Nearly every object we see has a defining texture on it's internal form and along its' edges. Often, they are the same – think of clouds which usually appear to have a soft texture both on the internal form and along the edge. The same for trees and tree bark.  
Some objects have a different internal form and edge texture. 
Painting and drawing from direct observation is the best way to get to know the textural 'signature' in the subjects you like to paint.
Variety In Texture = Professional Look
Hard textures are common in watercolor paintings especially in those works we create when just learning the medium. It is often enough just to be concentrating on learning the tricky fundamentals of this medium, without having to think about different types of edges and textures. 
It is important to get skilled at the rough and soft textures. Their presence creates a visual richness that heightens the sense of realism for the viewer.
What You'll Need:
Medium size round brush
Any color or puddle of color from your palette will do
Arches 140lb Cold Press or Rough paper
Enjoy These Free Lessons!
We Also Have Over 200 Premium Online Video Lessons and Tutorials... Monthly, Quarterly, Annual Membership Plans. Pause or Cancel at Any Time.
Basic Watercolor Painting Techniques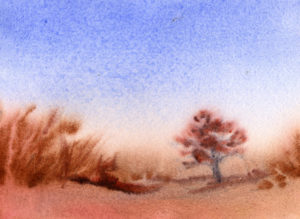 This group of lessons introduces three painting techniques that you will use in every painting. 
Learn and practice them until they become second-nature. Doing so will allow you to concentrate on the other skills and ideas that will help you make fast progress in your work. 
All four of these techniques have a role in creating the textures practiced in the lesson above. 
Don't underestimate the power of simple, basic painting techniques!
Painting A Garden Path In Morning Light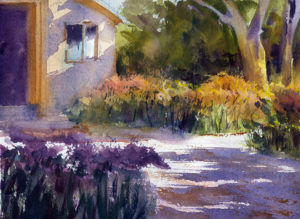 In this lesson you'll take those basic watercolor painting skills to a new level.  This painting has everything and getting there will be a challenge.
We show you how to get the most out of your skills in creating this beautiful garden scene. We also cover how to get a great sense of light and how to create an illusion of detail with texture.
This lesson includes a fairly complex scene – with many different subjects and with the application of many different concepts. The lesson is similar to others in that it uses the same few basic watercolor painting techniques that are the foundation of this medium.
More complex scenes are still just arrangements of shapes and can still be approached with a slower and more methodicaly approach.
Landscape Painting Lessons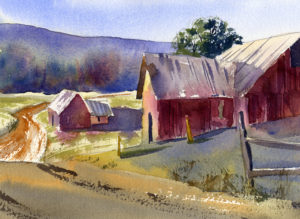 Seascape Painting Lessons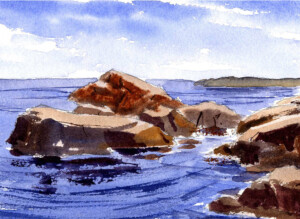 Still Life & Floral Painting Lessons