Paint A Quiet Winter Scene In Watercolor
Use Basic Techniques and a Simple Color Scheme on Rough Paper
The key to this painting is a strong composition with good value contrasts at the focal point along with textural contrast that emphasizes the softness of a snow-covered winter scene.
Basic Techniques For An Advanced Look
This painting relies heavily on two basic watercolor painting techniques:
wet-in-wet
and
dry-in-wet
.  Although they are simple basic techniques, combining them together – along with rough textured paper – makes for a complex, professional looking result.  The secret to making them work is the initial wet-in-wet wash: key word – WET.  As you'll see, we work very wet at the beginning of the painting and continue working back in first with more wet washes followed by dry-in-wet technique.
Working On Rough Paper
Contrast and variety make for a lively and visually interesting painting. The heavy use of wet and dry-in-wet techniques will create a lot of soft texture and soft-egded shapes. We'll balance and contrast all of that softness with the rough textures that happen so naturally on Rough watercolor paper.
Drawing Layout For Any Painting
One note on the drawing layout. The downloadable layouts are done with heavy lines to make it easy to see and copy onto your watercolor paper. It is best not to draw the lines too heavy on your paper, especially in the sky, since there is a good chance the lines will show through the paint. It's not a deal-breaker, but those heavy pencil lines are sometimes a distraction.
What you'll need:
Brushes – Flats of various sizes: 1 1/2″, 1″, 1/2″, 1/4″ and a rigger
Colors – Cadmium Red, Burnt Sienna, Raw Sienna, Ultramarine Blue, Cobalt Blue
Paper  – preferably Arches 140lb Rough;  140lb Cold Press will work since it also has some surface texture.
DOWNLOADS : PHOTO REFERENCE, VALUE SKETCH, DRAWING LAYOUT AND FINISHED PAINTING IMAGE
[/mepr-show]
This is a Premium Learning Library Lesson.  Access The Entire Library  With a Premium Membership – Cancel or Pause  at any time.  
More Premium Member Info Here.
 Already a Premium Member? Login Below
Just browsing? Check out these FREE lessons.
Value Sketch For Winter Scene
 The painting in the lesson above is based on a simple value composition that creates a strong focal point around the group of trees in the upper left.
This lesson shows how to create that strong value sketch with just a few changes in the overall value arrangement from the photo reference.  If you are new to Value Composition Sketching, it can be difficult to allow yourself to make changes from the scene or photo.  It is usually essential for creating a strong, dynamic painting and becomes easier with practice.
Paper Primer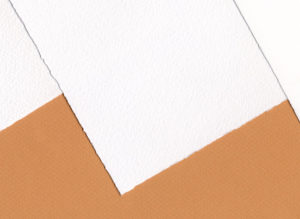 The lesson above is painted on Rough Paper. 
Watercolor paper has several characteristics that affect the way the paper works when you paint on it. In this short lesson, we go over the important factors so you'll know what paper to get for your kind of painting.
There are many different brands, weights and surfaces available but they are not all the same.
In this short tutorial lesson, we go over the important characteristics of watercolor paper.  We only cover professional grade paper – if you're not sure what that means, we cover it in this lesson.
Landscape Painting Lessons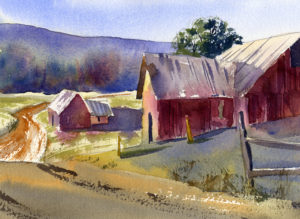 Seascape Painting Lessons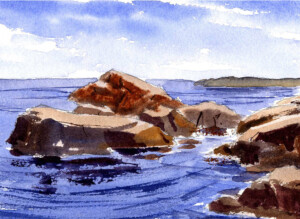 Still Life & Floral Painting Lessons