TRY THIS PREMIUM LESSON FREE!
Forsythia In Bloom In A Spring Landscape
Capture Light On The Spring Landscape In This Lesson
This lessons shows how to capture the bright blooms of Forsythia in early spring light. The real keys to success are the underlying value composition and choice of color palette. 
Paint Easy With Planning
At first glance, this seems to be a quick, easy, no complications lesson.   It is all those things because both the composition and the color scheme were worked out and chosen ahead of time!
The main subject of this painting is the small burst of bright yellow forsythia that meanders across the mid-ground.  The painting also features bright early spring light, illuminating the entire scene, including the forsythia. The paint is handled in loose, flowing way that makes the most of it's natural transparency – really enhancing the light, airy feel of this spring day.
The key to bringing focus to the main subject,  creating a sense of light, and working loosely with confidence is in planning before painting!
Value Composition
This painting is based on simple value composition that brings focus to the middle ground and the forsythia. This area of the painting includes strong, eye-catching value contrasts – just the ticket for drawing the viewers eye to just the right spot!
The value composition was worked out before starting the painting. This is an essential step that helps insure a successful painting.  It also helps you avoid the need to plan values as you paint and lets you approach the painting with confidence and freedom.
Color Scheme
It is pretty common to take a passive approach to choosing color for our paintings. Essentially we let the subject or a photo reference guide us. In choosing this approach, we give up a powerful ally in creating strong, dynamic work.
The painting in this lesson uses a deliberately chosen color scheme that works with the value composition to bring visual emphasis to the main subject and to create the sense of warm spring light.  In this case, we employ and expanded Complementary Color Scheme meant to create even more eye-catching contrasts around the Forsythia plants.
We have a series of lessons on the basics of color that include info on the Characteristics of Color, using color to show light and form, and the basics of common color schemes.
 What You'll Need:
Paint – Cadmium Yellow, Aureolin Yellow, Ultramarine Blue, Quinacridone Burnt Scarlet, Burnt Sienna, Raw Sienna
Brushes – Large, medium and small rounds, Rigger
Paper – sheet of Arches 140lb Cold Press Paper is recommended.
DOWNLOAD : DRAWING LAYOUT, VALUE SKETCH, ORIGINAL COLOR SKETCH, COLOR SCHEME, FINISHED PAINTING
Complementary Color Schemes
The color set used in lesson above is and expanded Complementary Color Scheme. It uses a set of palette colors used separarely or in mixtures creates sets of Complementary Colors.
Complementary colors are those that are found directly opposite one another on the color wheel. 
Although seemingly limited, the Complementary color scheme sets up powerful color contrasts and seems to have a wider range of color than would seem possible.
Learn more about the Complementary Color Scheme in this lesson. 
Color In Watercolor
Color is an aspect of painting that can take a lifetime of study to really understand.
This Learning Track introduces the various aspects of color and simple ways to explore color schemes, color choices and color combinations for your paintings.
It includes 25 lessons organized by topic and presented in to help build a strong foundation in the basics of color.  It's a good idea to start with the Characteristics of Color and work through the Color Wheel lessons, then Color Schemes and then the experiments with Primary Triads.  Once you have worked through all the lessons, you will have a solid base of color knowledge to build on.
Landscape Painting Lessons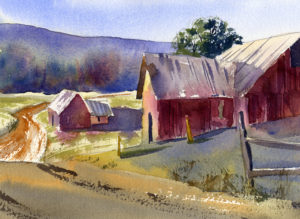 Seascape Painting Lessons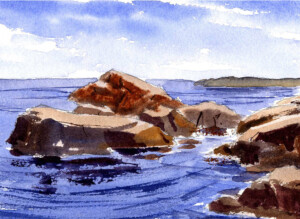 Still Life & Floral Painting Lessons