Paint A Seascape With Calm Ocean, Gentle Waves and Rocks
A Simple Seascape Scene And Rocky Shoreline
This is a great lesson to get started painting seascapes. It features a calm ocean and the methods to paint it. Much of the painting includes a rocky shoreline. Learn simple methods for great looking rocks.
Seascape As Subject
A once popular subject among artists, the seascape has lost some favor. Newer methods and techniques favor other subjects. There is also the initimdation factor – oceans and moving ocean water seems difficult and complex.
This lesson features methods and techniques that make it easy to represent a calm ocean quickly and simply.
Simplification and Essence
The real key to capturing any subject in any medium is simplification and a focus on its essence.  For any subject with water horizontalness and reflectivity are key 'essences'.  For oceans, even calm ones, it's important to show waves and white water.
Rocks, whether along a coastline or as an element of a landscape scene also have key elements that support the right look in a painting.  Angular shape and rough texture are two of these.
This lesson shows how to simplify and represent the essence of these two different subjects in a watercolor painting.
Rocks and Rocky Shoreline
Much of the foreground in the painting is taken up with a rocky shore. Rocks and groups of rocks is another of those things that seems to give watercolor painters lots of trouble.
Like most things, focusing on the simple essences of the subject makes it easy to create them in watercolor.
The simple approach in this lesson emphasizes angularity, rough texture and color/value changes to show form.
What you'll need
Brushes – Large, Medium and Small Rounds, 1/2″ and 1/4″ Flats, Rigger
Colors – Cobalt Blue, Thalo Blue, Burnt Sienna, Alizarin Crimson
Paper – 7″ x 11″ or so – Arches 140lb Cold Press recommended
This is a Premium Learning Library Lesson.  Access The Entire Library  With a Premium Membership – Cancel or Pause  at any time.  
More Premium Member Info Here.
 Already a Premium Member? Login Below
Just browsing? Check out these FREE lessons.
Rocks Reflections And Water In A Quick Sketch
Fast sketches with a time deadline are great for many reasons. The first is that you get to do a little watercolor painting very quickly – so if you are short on time, it's perfect! P
lus you'll have to work very fluidly, just to be able to get the painting done quickly. So, you'll get a chance to practice wet-into-wet technique in every painting. And, you'll have to develop the ability to simplify the subject, and to be decisive with the brush!
Once you've done this, follow it up with the lesson below.
Quiet Seascape Scene From A Two Minute Sketch
In this lesson, we start with the simple, quick seascape sketch from the lesson above and develop it into a finished painting.
We go through the process step-by-step making it an easy lesson.
We'll develop the unfinished sky and foreground, show light and form on the rocks and create reflections in the water.
If you want to follow along but don't have the original two-minute drill painting, click the button above to view that video.
In continuing our quick-sketch, two minute drill, we'll be using a limited palette of color in an Cool Analogous With Complement scheme.
How To Paint Ocean Waves In Watercolor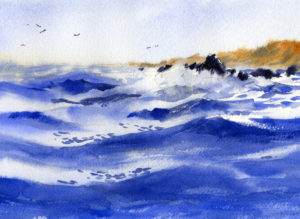 This lesson will show you the easy way to paint waves in the open ocean. There's one "secret" to know but really it uses easy, basic watercolor painting techniques.
The scene is a simple seascape that uses a couple basic techniques – wet-in-wet and dry-in-wet. 
Another important element for ocean water is capturing the rhythm and movement of the waves.  In essence it needs some particular shapes and moving brush strokes in the direction or shape of the waves.
How To Paint Angular Rocks
Rocks are a common element in both landscape and seascape paintings. They can seem smooth and rounded or sharp-edged and jagged. 
Hard-edged rocks are, in many ways, similar to cubes. Like cubes their faces are more likely to look flatter than rounded. And, as mentioned, their edges are very distinct, with both hard and rough textures along the length of the edge.  The edges make it easy to depict their form by showing the clear change between faces that are lit and those in shadow.
As always, a few basic watercolor techniques, used in the right way and in the right places are all you need to create, great looking, hard-edged rocks.
In this lesson you'll learn how to paint those sharp-edged rocks using easy techniques.
Landscape Painting Lessons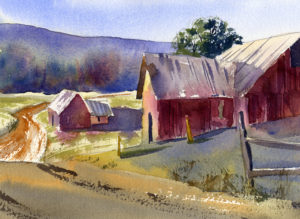 Seascape Painting Lessons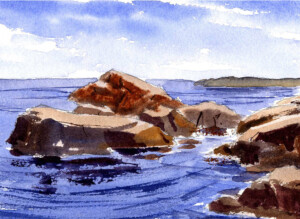 Still Life & Floral Painting Lessons