Paint Yellow Irises In Watercolor
Use A Controlled, Layered Approach For Realism and Detail
Discover what it means to paint "tight" – it's not what you think!
This is a long lesson! About 1 hour and 40 minutes. Most of what you need to know is shown by 1:10. 
Painting "Tight"

Nearly all of the lessons on Watercolor Methods are painted in a "loose" style. Essentially a style that allows free flowing mixtures and minglings – allowing the unknown and un-controlled to happen!
This lesson is done 'tight'. For many, that may seem to mean taking control from the medium – the water – and restricting mixing and mingling.  In fact it is not that.
Instead, it really involves being 'tight' along the outer edges of the shapes while still allowing washes to flow freely within the edges and building up color, value and detail using fluid layers of paint.
Drawing Layout
For a 'tight' painting, an accurate, detailed drawing layout is required.  One is included in the download, below. Although it is always a good idea to draw freehand, developing your drawing skill in the process, it is recommended that you trace this one.  It will insure accuracy and the best result
What you'll need
Brushes – Large, Medium and Small Rounds; especially those with the sharpest points
Palette Colors – Cobalt Blue, Ultramarine Blue, Aureolin Yellow, Cadmium Yellow, Burnt Sienna, Raw Sienna, Quinacridone Burnt Scarlet
Paper – A sheet of watercolor paper, about 11″ x 7″ – As always, Arches 140lb Cold Press is recommended
This is a Premium Learning Library Lesson.  Access The Entire Library  With a Premium Membership – Cancel or Pause  at any time.  
More Premium Member Info Here.
 Already a Premium Member? Login Below
Just browsing? Check out these FREE lessons.
Paint A Peony Bud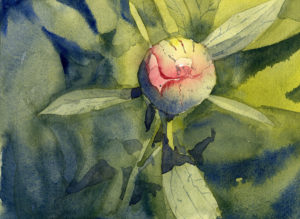 This is another lesson painted 'tight' – especially on and around the main subject. The main idea for the lesson is to simplify and bring focus in complex subject.
Although we're painting tight, the main techniques are still wet-in-wet and dry-in-wet. Negative painting is used to separate elements and bring focus.
While this is a tight, detailed painting, it is focused on one subject. There is a lot of emphasis placed on minimizing extraneous detail and harmonizing by limiting color. These are valuable ideas that can help avoid dis-jointed, dis-connected paintings.
This lesson shows how to create a focal point, and put most of the visusal importance there.
Quick Sketch Of Flowers In A Vase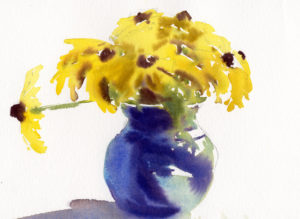 This lesson, on the other hand, is a quick sketch of some Black-eyed Susans in a ceramic vase. The sketch focuses on capturing the essence of the subject and on the overall effect of the light.
Like the Peony Bud lesson above, this is also a study in focus and simplification. Unlike the peony bud, it is a loose, free approach based on wet-in-wet washes.
Sketching allows you to focus your attention on one or just a couple things that you want to learn. This kind of focused practice will do wonders for your skill and your confidence.
Landscape Painting Lessons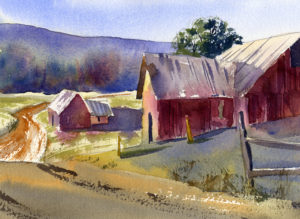 Seascape Painting Lessons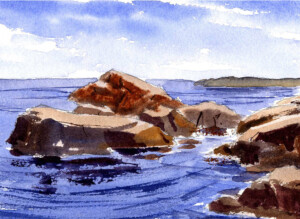 Still Life & Floral Painting Lessons