Just Starting Out?
Great! Watercolor is a beautiful and unique medium. Using it well takes some time, but getting a handle on the basics is easy. This learning track starts you out with info about materials and some tips that will help you get off to a good start.
If you are really just starting out, the first section will go over the basic materials, how to minimize their cost, getting set up to paint, stretching paper, and cleaning brushes.
Then watch the videos on the four basic techniques  – Wet-Into-Wet, Dry-Into-Wet, Drybrush, and Lift. It seems to good to be true, but these techniques are the only ones you need to know. They'll get you started and take you as far as you want to go. Get a handle on these four first! It will boost your ability right away. And will make it easier to make progress. 
Also, watch the video on what can go wrong – blooms, streaks and mud.  You'll want to avoid these and this video will show you how they happen and how to avoid them.
After that, follow along on the easy watercolor painting projects that will show you how to create a painting step-by-step, using some combination of the four basic techniques.
Supplies, Materials, Setting Up, Getting Started Painting
The Four Techniques You Need To Know

Search For Lessons By Topic, Subject, Concept, or Technique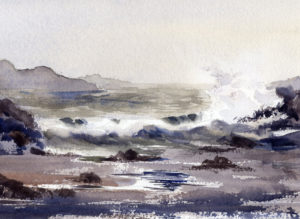 Paint a Seacape In Fog In This Watercolor Lesson Lots of wet-into-wet and drybrush technique along with neutral grays gives ...
Go To Lesson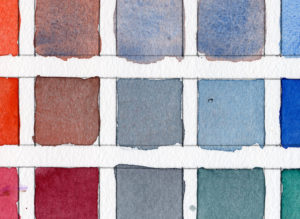 Learn Mix Grays and Neutral Colors In Watercolor  Learn how to mix beautiful, transparent grays and neutral colors in this ...
Go To Lesson
Learn to Paint A Warm Summer Evening Landscape In Watercolor In this lesson you'll learn how to infuse a watercolor painting ...
Go To Lesson