REALLY Learn To Paint In Watercolor
Watercolor Methods online painting lessons are designed to teach you how to paint in watercolor. Our lessons are easy to follow and go step-by-step. We show you both the hows and the whys. Watercolor is a tricky medium but has a few important fundamentals. These online lessons emphasize the easy, basic techniques and how they can be used to make beautiful dynamic paintings. A Premium Membership provides access to all lessons; a new lesson added each week – over 150 and counting!
More Winter – But With Focus On Composition and Light!
It's another winter scene but we'll use a winter landscape as a platform to explore the 'S' composition structure.  The 'S' shape creates very strong, well-interlocked and unified structure on the picture plane. Then we'll use that strong value structure as the basis to show warm winter light.
The key to showing light – in any painting of any subject – depends on contrasts of both value; dark vs. light and temperature; warm vs. cool.  We'll work on showing the light by creating these contrasts using the structure of the 'S' shape.
It's an instructive lesson on many levels – even if you're not a fan of winter!
Search For Lessons By Topic, Subject, Concept, or Technique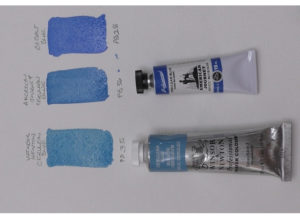 Choosing The Right Cerulean Blue Watercolor There Are Differences Between Brands. Let's Take A LookCerulean Blue is one of those ...
Go To Lesson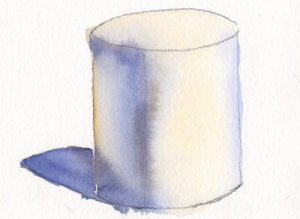 Painting A Vertical Cylinder In Watercolor A Simple Shape That Is Found In Many Subjects Learn how to show light ...
Go To Lesson
Learn To Paint A Winter Stream Landscape This lesson shows how to paint a frozen winter stream landscape scene. We'll ...
Go To Lesson
Try A Premium Membership Free For 7 Days!
Includes at least one new lesson every week
Access to all current video lessons
"Third Thursday" Online (Facebook) Paint-Alongs
Facebook Watercolor Methods Community
Only $12.99 per month after that!
Premium Monthly
1st Week Free
Then $12.99 per month
Access to All Content – Lessons, Downloads and Premium Extras
Premium Annual
$140/yr – 10% Discount Over Monthly Cost
Access to All Content – Lessons, Downloads and Premium Extras
Basic
Access to Basic Lessons and Free Content
Watercolor Methods Founder and Instructor – Tony Conner
I am a passionate and dedicated watercolor painter and enjoy helping others make progress in their own watercolor practice.
My watercolor painting journey was, I suspect, just like your own. I spent a lot of time trying to find those precious bits of free time that I could devote to learning, practicing and painting.
I've taught watercolor painting classes and workshops for the past 15 years. That experience has taught me a couple very important things about nearly all aspiring watercolor painters: nearly everyone struggles with the basic handling and techniques; along with getting a handle on those, some simple design and composition quickly improves everyones work.
Watercolor Methods lessons were developed with my own experience as a student as as an instructor in mind.  The lessons are in-depth and step-by-step. There is a focus on the fundamental techniques, composition principles and a good bit of explanation and insight into thinking and process.
I want you to enjoy the unique beauty and qualities of this medium the way I do and hope Watercolor Methods will help you on your watercolor painting journey.