Paint A Watercolor Landscape With Aerial Perspective
An Important Idea For Creating The Appearance of Distance Your Paintings
What Is Aerial Perspective?
The effect of Aerial Perspective is also known as Atmospheric Perspective.  Undoubtedly, you have had a chance to look out over a landscape that stretches way off in the distance. You've likely noticed that distant hills seem lighter and less distinct, while also appearing to be blue.  The effect is caused by the mixure of elements, water vapor and dust particles that scatter light rays traveling from distant objects to your eye.
This effect is often described as Aerial or Atmospheric Perspective.  In reality, Aerial Perspective actually describes the system used by artists to interpret and simulate the atmospheric effect in paint on a two-dimensional surface.
Aerial Perspective In Painting
Applying the principles of Aerial Perspective to your painting is easy. The most important technique for aerial perspective is the wet-into-wet wash which can provide gradations of value quickly and easily. This work especially well for  depicting a scene with a great deal of distant space.
This painting goes quickly with little detail. Since we're working quickly, we'll be using the dry-in-wet technique for darker areas that need to blend softly into lighter shapes.
Another important factor is the change in Value – from lightest in the distance to darkest in the  foreground.  We'll use a simple Value Sketch to help guide our decisions about and placement of values in a way that suggest the effect of aerial perspective.
This lesson teaches you exactly how to apply Aerial Perspective in your paintings.
Transferring the Drawing Layout
The downloadable layouts are done with heavy lines to make it easy to see and copy onto your watercolor paper. It is best not to draw the lines too heavy on your paper, especially in the sky, since there is a good chance the lines will show through the paint. It's not a deal-breaker, but those heavy pencil lines are sometimes a distraction.
Materials Needed
Brushes – Large, Medium and Small Round Brushes
Colors – Quinacridone Burnt Scarlet (or a mix of Permanent Alizarin Crimson and Burnt Sienna), Ultramarine Blue, Cobalt Blue, Cerulean Blue, Aurolean Yellow, Raw Sienna
Watercolor paper – preferably Arches 140lb Cold Press
This is a Premium Learning Library Lesson.  Access The Entire Library  With a Premium Membership – Cancel or Pause  at any time.  
More Premium Member Info Here.
 Already a Premium Member? Login Below
Just browsing? Check out these FREE lessons.
Value Sketch For Aerial Perspective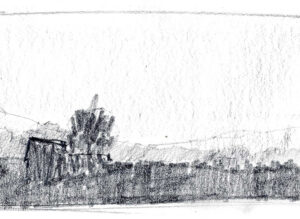 This short lesson steps through the process of creating the value composition sketch for the lesson above. 
The process is easy. If you are unfamiliar with the idea of value composition sketching, try this tutorial which steps through the idea, process and thinking of creating a simple value sketch. 
This sketch is made easier since the arrangement of light, mid and dark value is predetermined by the condition of aerial perspective. 
We have a Learning Track For Value as well as the basics of Light and Form. It'll help with the basic concepts and application.
Linear Perspective Learning Track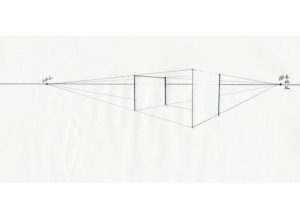 Learn more about Linear Perspective, the differences between one, two and three point perspective, and the more practical applications in watercolor paint with this group of lessons
It includes eight lessons that will teach you the basics of, and how to apply Linear Perspective in your drawings and paintings. 
Landscape Painting Lessons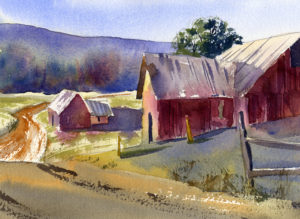 Seascape Painting Lessons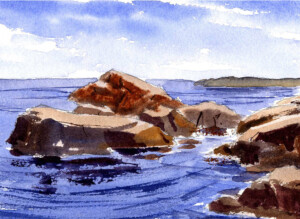 Still Life & Floral Painting Lessons