Planning Your Painting With A Value Sketch

One Of The Best Ways To Improve Your Painting
Why Use Thumbnail Sketches?
Creating small – thumbnail – value sketches is a recommended practice for watercolor painting. The process of creating them promotes and stimulates exploration while helping you visualize different divisions of the space in your picture plane. The process also emphasizes simplification, both in shapes and in values.
It is a process that many avoid initially, because they are anxious to just get painting. But, once you've gotten used to and developed a good value sketching habit, the time invested will be small, while the return on that investment will be very large.
The Power Of Value and Value Sketching
All dynamic painting compositions are built on a foundation of simplified shapes each with a simplified value.  Usually, the underlying composition includes just a handful of shapes with well-defined value.
In this lesson we'll start with a pencil sketch of a farm done on location. The lesson will go through the process and thinking for creating a strong, dynamic value composition that will also represent the original subject.
If you are new to the process, it is likely your old thinking habits will try to get you to draw individual objects separately.  Follow the lesson to keep on track and try to adopt the process as presented.
Practice the ideas and process – it will help you get better and make the process easier and easier.
What you'll need:
Plain or drawing paper, or a pencil sketchbook
Pencil – I always recommend a 2B drawing pencil for sketch work
DOWNLOAD:  VALUE BASICS INFO SHEET
This is a Premium Learning Library Lesson.  Access The Entire Library  With a Premium Membership – Cancel or Pause  at any time.  
More Premium Member Info Here.
 Already a Premium Member? Login Below
Just browsing? Check out these FREE lessons.
Painting In Color: Maintaining Value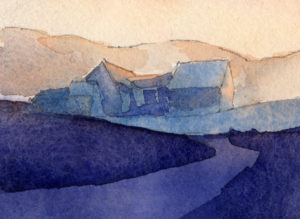 Build your skill by taking on this lesson next.  In it, you'll step through the process of creating a small color study based on one of these value sketches.
One of the obstacles to creating strong paintings is our tendency to think literally about our subject and all the objects in the painting.  This is especially true when working with color.
This lesson will help you get over that obstacle.