A Winter Landscape Scene
Painting Snow On The Branches Of Fir Trees
A snowy November left the evergreen boughs of piled heavy with the white stuff. It's a beautiful scene and one that inspired this painting lesson. We'll use a thumbnail sketch to plan and guide placement of the underlying composition. We'll use lots of the wet-into-wet technique in an effort to show the soft textures of snow. It's an easy lesson that will get you ready for winter!
Lesson Combines Several Ideas And Techniques.
We'll be working with a thumbnail sketch for this painting. It will help us to compose bigger shapes and organize where we'll have our lights, darks and middle value areas.
In the painting itself, we'll get more practice with wet-into-wet technique in an effort to show the soft textures of snow.
And we'll use techniques particularly useful for showing the branches of fir and pine trees – dry-in-wet and drybrush.
We'll be using a palette of colors that work really well for winter landscape scenes. It is basically a primary triad, but with low intensity versions of red and yellow.
Managing Complex Paintings
This lesson combines several techniques including the dry-in-wet technique which usually requires some fast working and fast thinking.  We'll also be using a value composition sketch to guide placement of light, dark and middle values. 
Keeping a painting moving while thinking about multiple things is a challenge.  It's easier when you have developed basic skills to the point that they are second-nature.   
Painting projects like this one will help you develop the ability to manage more complex work.  
What you'll need:
This is a Premium Learning Library Lesson.  Access The Entire Library  With a Premium Membership – Cancel or Pause  at any time.  
More Premium Member Info Here.
 Already a Premium Member? Login Below
Just browsing? Check out these FREE lessons.
Winter Landscape Painting Lessons
Landscape Painting Lessons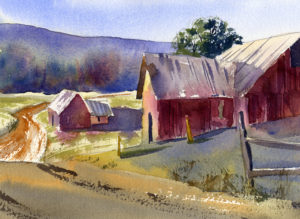 Seascape Painting Lessons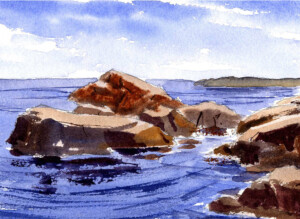 Still Life & Floral Painting Lessons