Finishing A Sketch

New Life For An Unfinished Work
This lesson can be watched with at least a PREMIUM MEMBERSHIP.
Already a Basic Member? Upgrade to PREMIUM from your Account Page.
Already a Premium Member? Click here to login
Not a Premium Member yet? Join below.
Rough Start Or Abandoned Work
All of us have drawer or portfolios full of sketches and even intended paintings that were stopped or abandoned for one reason or another.  In general, it is a good idea to finish all the paintings you begin – even if it does not seem to be going in the right direction.
In this watercolor painting lesson, we'll take a quick, two-minute sketch and turn it into a simple but expressive scene. The starting point is the "Tea Tins In Two Minutes" fast and loose exercise.
In this lesson you'll learn how to bring a painting from unfinished to finished by working on just a few things:
Establishing or re-establishing edges on the objects
Building up a range of value to show form and light
Adding just enough detail to add realism
It's a fairly quick and easy lesson that can be applied to almost any un-finished work.
What you'll need:
Finished Tea Tins In Two Minues Quick Painting Drill
Colors: Raw Sienna, Quinacridone Deep Gold, Cadmium Red Light, Thalo Blue
Medium Round, Small Round, Rigger
Landscape Elements: Trees, Skies, Clouds, Water
Original Quick Sketch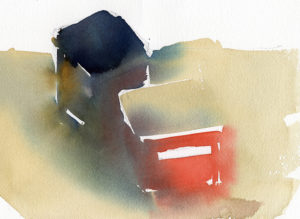 Fast And Loose Watercolor Painting Lesson Build Basic Brush and Wash Skills With Another Fast LessonWorking fast and loose with ...
Go To Lesson
Seascape Quick Sketch
Rocks In Water Two-minute Fast Sketch Exercise Fast sketches with a time deadline are great for many reasons. The first ...
Go To Lesson