Simplifying Complex Subjects
We'll simplify a complex subject using easy techniques and an easy method. This lesson features the wet-into-wet and dry-in-wet techniques and we'll do a lot of negative painting. Follow along to learn how to paint a peony flower bud in this easy watercolor painting lesson.
Simplify, Focus And Layer
The key to managing any complex scene is to simplify and focus. This lesson combines several ideas and methods. 
The first idea is to SIMPLIFY.  A scene like this, looking down into a mass of leaves and undergrowth is very complex.  It is easy to get caught up in the complexity. The first thing to remember is that the complex leaf mass is the background.  Painting it in all it's complexity will draw attention away from the main subject – the peony bud. 
The second is to focus. Since the peony bud is the main subject, the eye should be drawn here. Including much of the detail, harder edges and more contrast on and around the bud is the way to bring focus.
The lesson uses basic watercolor painting techniques – wet-in-wet and dry-in-wet – but with more control and in building up several fluid, transparent layers. 
Focus On the Peony Bud
It's always our impulse to copy every scene we see including every last detail and color. This often results in a dis-jointed, dis-connected painting. It is better practice to create a focal point , and put most of the viusal importance there. In this painting lesson, we'll create a focal point with the bud itself and create a soft focus in the background.  
Along with wet-into-wet and dry-into-wet techniques, we'll use a lot of negative painting to help bring out that all important peony bud.
What you'll need
Brushes – Medium Round, Small Round, 1 1/2″  and 1/4″ flats and and a Rigger
A palette with your colors – Cobalt Blue, Ultramarine Blue, Lemon Yellow, Raw Sienna and Permanent Alizarin Crimson.
Watercolor paper – preferably Arches 140lb Cold Press cut to about 7″h x 11″ – slightly smaller is OK
This is a Premium Learning Library Lesson.  Access The Entire Library  With a Premium Membership – Cancel or Pause  at any time.  
More Premium Member Info Here.
 Already a Premium Member? Login Below
Just browsing? Check out these FREE lessons.
Painting Yellow Irises With Control And Layering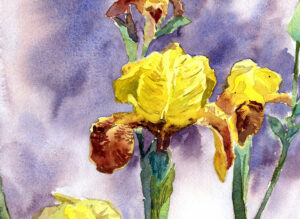 Painting "Tight"This lesson shows how to paint a group of yellow irises in a 'tight' manner. That may seem to mean taking control from the medium – the water – and restricting mixing and mingling.  In fact it is not that.
Instead, it really involves being 'tight' along the outer edges of the shapes while still allowing washes to flow freely within the edges and building up color, value and detail using fluid layers of paint.
Learn to use basic and free techniques in a contolled, layered approach. The result is a 'tight', high-resolution painting with a strong sense of realism.
This lesson shows how.
Paint A Pink Peony Blossom On Hot Press Paper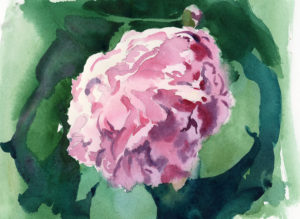 This lesson is about creating an impressionistic floral painting on hot-pressed watercolor paper. Peonies are beautiful and fragrant. We can't re-create the fragrance, but we can capture the beauty without trying to make a photo-realistic painting.
Subjects like this peony tend to lead us toward photo realism. There is so much going on in this one single blossom and we want to catch every bit of it. Instead of that, I like a more impressionistic approach that allows for some interpretation and addition of our own sense of the subject while still getting the character and beauty of the subject.
We'll work loosely in this project, applying wet-into-wet and dry-into wet technques to try to pull this subject together, capture the light and the character of this beautful subject.
Landscape Painting Lessons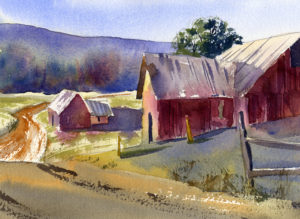 Seascape Painting Lessons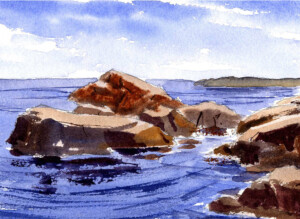 Still Life & Floral Painting Lessons