Sketch of Flowers In A Vase

Develop the Sketching Habit To Improve Your Painting
This lesson is a quick and easy sketch of some Black-eyed Susans in a ceramic vase. We'll focus on a couple of things while using and working with a wet-in-wet wash.
Sketching is a great way to improve your painting. Think of it as practice the way you might practice a sport or a musical instrument. You might make mistakes, but you are still learning as you go.
Sketching is Practice Painting
Developing a sketch habit is one of the easiest, enjoyable and best ways to get better at painting.
Sketching is practice painting for an artist. It allows you to focus your attention on one or just a couple things that you want to learn. This kind of focused practice will do wonders for your skill and your confidence.
An added bonus is that sketches often have a presence and life that we may find missing in our 'finished works. The immediacy of working quickly and loosely along with focusing on capturing the essence of a limited subject tends to breathe life into these seemingly ordinary paintings.
Flowers As A Group
Massing individual elements into a larger shape almost always results in a stronger composition and a more interesting shape. In this case, the small vase contains a bouquet of Black-Eyed Susans. For this sketch, the group is more important than the individuals – except for the single blossom leaning out to the left.
Again, the mass shape that includes both the flowers strengthens the painting and provides a stark contrast to the single flower leaning out on it's own.
Experimenting with ideas like these – mass shapes for composition and contrast – is another valuable skill easily developed while sketching
What you'll need
Brushes – 1″ Flat, Medium Round, Small Round
Colors – Cadmium Yellow Medium, WN Cerulean Blue, Winsor Newton Perm. Alizarin Crimson, DaVinci Aureolin Mix, WN Cobalt Blue
Watercolor paper – preferably Arches 140lb Cold Press cut to about 7″ x 11″ or so
This is a Premium Learning Library Lesson.  Access The Entire Library  With a Premium Membership – Cancel or Pause  at any time.  
More Premium Member Info Here.
 Already a Premium Member? Login Below
Just browsing? Check out these FREE lessons.
Painting Yellow Irises With Control And Layering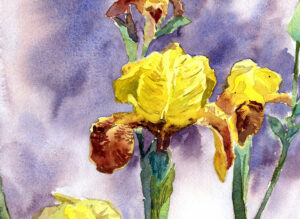 Painting "Tight"This lesson shows how to paint a group of yellow irises in a 'tight' manner. That may seem to mean taking control from the medium – the water – and restricting mixing and mingling.  In fact it is not that.
Instead, it really involves being 'tight' along the outer edges of the shapes while still allowing washes to flow freely within the edges and building up color, value and detail using fluid layers of paint.
Learn to use basic and free techniques in a contolled, layered approach. The result is a 'tight', high-resolution painting with a strong sense of realism.
This lesson shows how.
Landscape Painting Lessons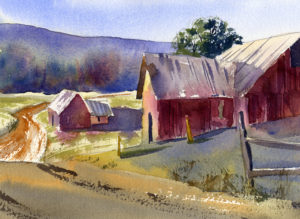 Seascape Painting Lessons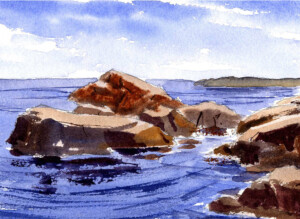 Still Life & Floral Painting Lessons