Paint A Covered Bridge In Morning Light

 In this lesson we'll paint a covered bridge in morning light. A simple value composition sketch and color study done helps allow for freedom with the medium and confidence in approaching the work. 
Take A Couple Steps Back
Covered bridges are very popular subjects to paint. It's often the case that we are so excited about a subject and anxious to get started that we pull out that sheet of watercolor paper, draw the scene and start painting. This is almost always the wrong place to start. It is rare that the end result is not improved by taking the time to plan the composition and explore color choices before going on to the actual painting.
This lesson is all about painting that compelling scene with a beautiful covered bridge. But it is also the final step in a three step process. The first two – creating a value composition sketch and a color study – allow us to approach the painting with confidence and allow the medium it's freedom.
It is strongly recommended that you follow the previous two lessons in order before starting this lesson.
Covered Bridge Scene – Subject and Idea
Everyone loves paintings of covered bridges and everyone love to paint them.  This lesson shows you how to paint one on an autumn morning.  This painting will be the combination of a subject – the covered bridge – with and idea – morning light in autumn.  It is important to recognize that the subject and idea are separate until we find a way to connect them in the painting.
For the subject, the bridge, it's mostly important to get it drawn correctly so that anyone looking at the painting will recognize it. For any subject, an "accurate" drawing usually comes down to having the right symbols in place. After all, no painting is a creation of real objects, but a collection of shapes with color, value, and texture applied. For this painting the bridge is drawn so with the right proportions, appropriate shapes for openings and a few key interlocks.  Pretty easy stuff!
The idea in this painting, as in many paintings, is more difficult. In this case, the idea that the bridge is catching sunlight on an autumn morning means that we have to use particular colors – to depict autumn – and an arrangement of value that seems to show sunlight coming from a low angle.  The first two steps in the process, the value composition sketch and the color study, helped figure out how to place value and select a color set to re-create the idea of autumn morning light in the painting.
Analogous Color Scheme
The subject and idea for any painting provides direction in the choice of colors used in the painting. The idea for this scene is that it is an autumn morning. Autumn suggests a scene that is dominated by warm colors.
For this Color Study, and the eventual painting, we'll use an Analogous Color Scheme with Complements
.
Drawing Layout For Any Painting
One note on the drawing layout. The downloadable layouts are done with heavy lines to make it easy to see and copy onto your watercolor paper. It is best not to draw the lines too heavy on your paper, especially in the sky, since there is a good chance the lines will show through the paint. It's not a deal-breaker, but those heavy pencil lines are sometimes a distraction.
What you'll need
This is a Premium Learning Library Lesson.  Access The Entire Library  With a Premium Membership – Cancel or Pause  at any time.  
More Premium Member Info Here.
 Already a Premium Member? Login Below
Just browsing? Check out these FREE lessons.
Value Composition Sketch – Do This First!

The Color Study lesson, above, is the second step in a process that will result of a painting of a covered bridge in morning light. 
Any color study is not really a stand-alone exercise, but another exercise to explore the planned composition with Value and the other aspects of Color that help convey the subject and idea of the painting. 
Both steps are crucial in creating a strong structure for the eventual painting. 
Together, they also serve as a means to both encounter and solve problems with the composition, color choices, light and form among others. 
Color Study For Covered Bridge – Do This After The Value Sketch

This quick tutorial shows how to use a color study to develop a subject and idea while testing composition and value structure.
This lesson is really the second step, after the Value Composition Sketch lesson, above.
It is essential for making deliberate choices about the composition before jumping into the painting.
As with the exercise of creating Value Composition Sketches, Color Studies help explore different ideas about the scene or subject for a painting.  The two steps together, Value Composition Sketch and and Color Studies are vehicles for working out composition and are also valuable for  working out potential problems with color, value, technique and more.
Analogous Color Schemes – The Basics
In this short lesson, we'll take a look at the Analogous and Analogous with Complement Color Schemes. Both are effective at creating harmony and unity in your paintings.
Analogous colors are those that are similar to each other and found adjacent or near each other on a color wheel.
Paintings that use analogous color will have a great deal of color harmony, which reinforces the Unity of the painting.  Paintings based around an analogous color scheme will also have a definite mood that is visually reinforced throughout the painting.
Landscape Painting Lessons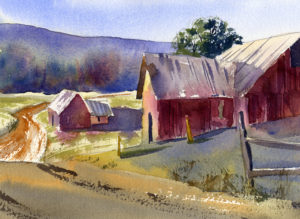 Seascape Painting Lessons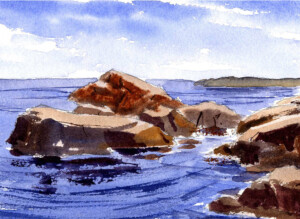 Still Life & Floral Painting Lessons