Watercolor Painting Tutorials and Lessons
Premium Lesson Learning Library
New Premium Lesson!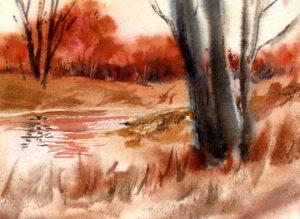 Quiet Late Fall Scene
An impressionistic scene done with easy watercolor painting techniques. This painting happens fast. Virtue is not in speed but in confident use of basic technique.
Free Lessons
We have 25 Free Watercolor Painting Lessons that cover Basic Materials and everything you need to know in a Beginners Lesson Series.
Is there a lesson you'd like to see? Send us a note below! Thanks!
Learning Tracks
Important Areas Of Fundamental Painting Knowledge
Lessons in these Learning Tracks are grouped and ordered to help strengthen your knowledge and skill step-by-step. All include lessons and tutorials on theory and practical application.
Value Learning Track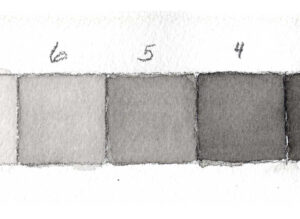 Value is arguably the most important of the Four Characteristics of Color to understand.
Learn about Value and how to use it for effect in paintings in this Learning Track.
Color Learning Track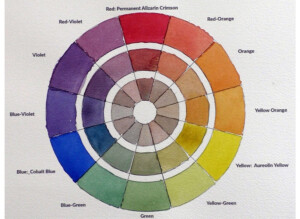 Color is a simple word that word that is used to describe a set of complex interactions between four different aspects of color. Each can be used to support the idea of light, form, and space in a painting.
Learn the basics in this group of lessons.
Value To Color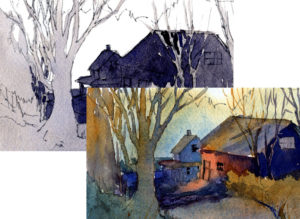 Converting the simplified values from a thumbnail composition into color in a painting is difficult for most of us. Yet it is vitally important.
This Learning Track shows how to manage the transition to the benefit of your work.
Perspective Learning Track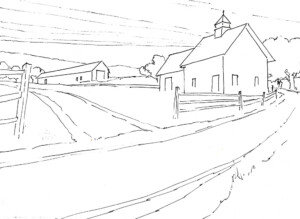 The system of Linear Perspective supports the illusion of form and space in a painting by making sure placed and shaped properly in two-dimensions.
This Learning Track covers the basic theories and practical aspects.
Paint The Winter Landscape
Watercolor Painting Lessons By Subject
All lessons below are in-depth, and go step-by-step.  Fundamental techniques along with value, color and other considerations are covered in the narrations.
Landscape Painting Lessons
Still Life and Floral Painting Lessons
Quick Lessons and Unusual Subjects