Learn To Paint Morning Mist In Watercolor
In this lesson you'll learn how to use easy, basic watercolor painting techniques to create morning mist that we see on the ground so often in early fall. Mostly, it's just wet-into-wet work with some dry-into-wet as well.
Painting Morning Mist
Morning mist is one of those subjects that seems difficult but really isn't. If you think about it, mist on the ground is essentially the same thing as if a cloud landed on the ground. The key to painting clouds are light colors and soft textures. It is the same with mist.
In this painting lesson, we'll use the basic wet-in-wet technique with a little twist to get the look of mist on the ground. It's really much easier than it looks. The key thing is to work very wet.
A Key Element Of Early Fall
It's possible to see mist rising from the ground in any season, but it is very common on cool autumn mornings when cool air flows into low areas and condenses moisture in the air to create low-lying fog, or what we call mist. 
What you'll need
This is a Premium Learning Library Lesson.  Access The Entire Library  With a Premium Membership – Cancel or Pause  at any time.  
More Premium Member Info Here.
 Already a Premium Member? Login Below
Just browsing? Check out these FREE lessons.
Landscape Painting Lessons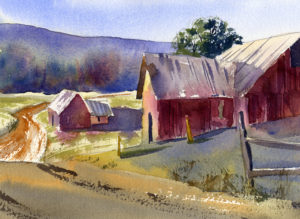 Seascape Painting Lessons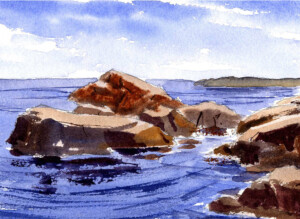 Still Life & Floral Painting Lessons