Paint A Barn And Rural Scene In Watercolor

 This lesson takes you through the process to paint a representational rural scene.  It's an easy lesson and is made easier because we build directly on work from several previous lessons.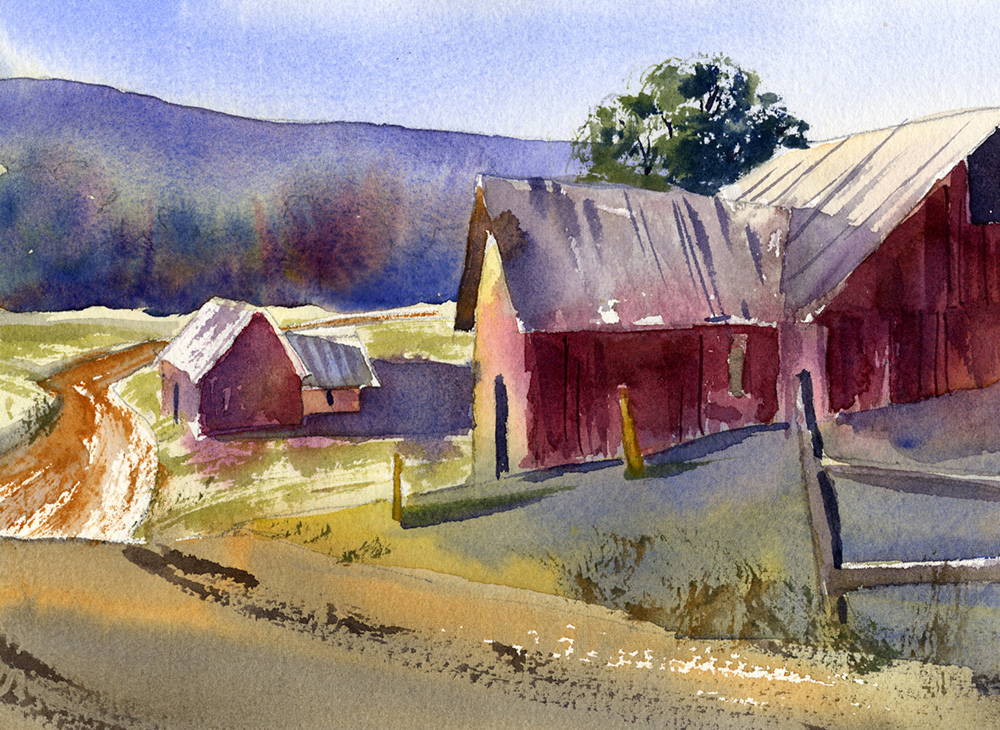 Easy To Follow Painting Lesson
By itself, this is an easy lesson that should be accessible to anyone – even beginners. We go through the painting process in a methodical, one layer at a time approach.  Nearly everyone will have success with it. 
But, this project is really built on several previous lessons.  Although it isn't necessary to really follow it, this lesson is actually a culmination of an earlier composition lesson, a fun technique painting lesson and incorporates the ideas from an earlier color triad lesson. 
The Painting Process
If you are just looking for another painting project, without the foundation lessons, by all means, jump in! You are bound to have fun, get a good result and learn something in the process.
But, as mentioned before, this lesson and the process we follow is the final stage of a the creative process. It represents, generally speaking, the type of process employed by many accomplished artists – including me.  The major difference between more accomplished work and less accomplished work has little to do with talent. Instead, it has more to do with the artist's approach and thinking about painting.
The lessons that proceed this one – which you can find links to below – lead to this one and represent a condensed version of the creative process.   In addition to enjoying this lesson, I'm hoping you'll take time to explore those previous "building block" lessons – it may change your thinking and dramatically change your work.
Drawing Layout For Any Painting
One note on the drawing layout. The downloadable layouts are done with heavy lines to make it easy to see and copy onto your watercolor paper. It is best not to draw the lines too heavy on your paper, especially in the sky, since there is a good chance the lines will show through the paint. It's not a deal-breaker, but those heavy pencil lines are sometimes a distraction.
What you'll need
This Lesson Builds On These Previous Lessons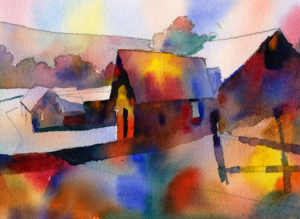 Fun Easy Watercolor Wet-In-Wet Painting Lesson This easy, step-by step lesson takes the basic wet-in-wet watercolor technique to a new ...
Read More
Related Lessons : Barns & Buildings