Paint A Barn And Rural Scene In Watercolor

This lesson takes you through the process to paint a simple country scene with barns and other things common to rural scenes.  It's an easy lesson and is made easier because we build directly on work from several previous lessons.
What You'll Learn
In this lesson, use basic watercolor painting techniques to create the look of a misty, rainy day.  We'll cover:
Soft texture – to create the look of distant objects and grassy fields
Rough brush – for getting the look of rough, weathered boards and wood and dirt roads
Limited Palette – this painting uses a simple Primary Triad for all the colors in the scene
Capturing Light – use Color and Value contrasts to create light and form
Watercolor Techniques and Ideas Used
This lesson is based on two basic watercolor techniques and
Dry-Brush (FREE Lesson) – or rough-brush technique is effective at creating rough textures. Combined with proper Direction of Stroke, rough texture is effective at depicting a range of light effects, subjects, surfaces and more. This is an ESSENTIAL technique for any watercolor artist.
Wet-In-Wet (FREE Lesson) – this basic technique is key to creating soft textures that create the look of spray and mist
Side-brush stroke – using the side of the brush with a light touch; this is especially effective for creating controlled rough edges
Creating a sense of light and form – this requires the use of color and value contrasts
Easy To Follow Painting Lesson
By itself, this is an easy lesson that should be accessible to anyone – even beginners. We go through the painting process in a methodical, one layer at a time approach.  Nearly everyone will have success with it.
But, this project is really built on several previous lessons.  Although it isn't necessary to really follow it, this lesson is actually a culmination of an earlier composition lesson, a fun technique painting lesson and incorporates the ideas from an earlier color triad lesson.
it may change your thinking and dramatically change your work.
What you'll need
This is a Premium Learning Library Lesson.  Access The Entire Library  With a Premium Membership – Cancel or Pause  at any time.  
More Premium Member Info Here.
 Already a Premium Member? Login Below
Just browsing? Check out these FREE lessons.
Basic Painting Composition – Shape, Value, Color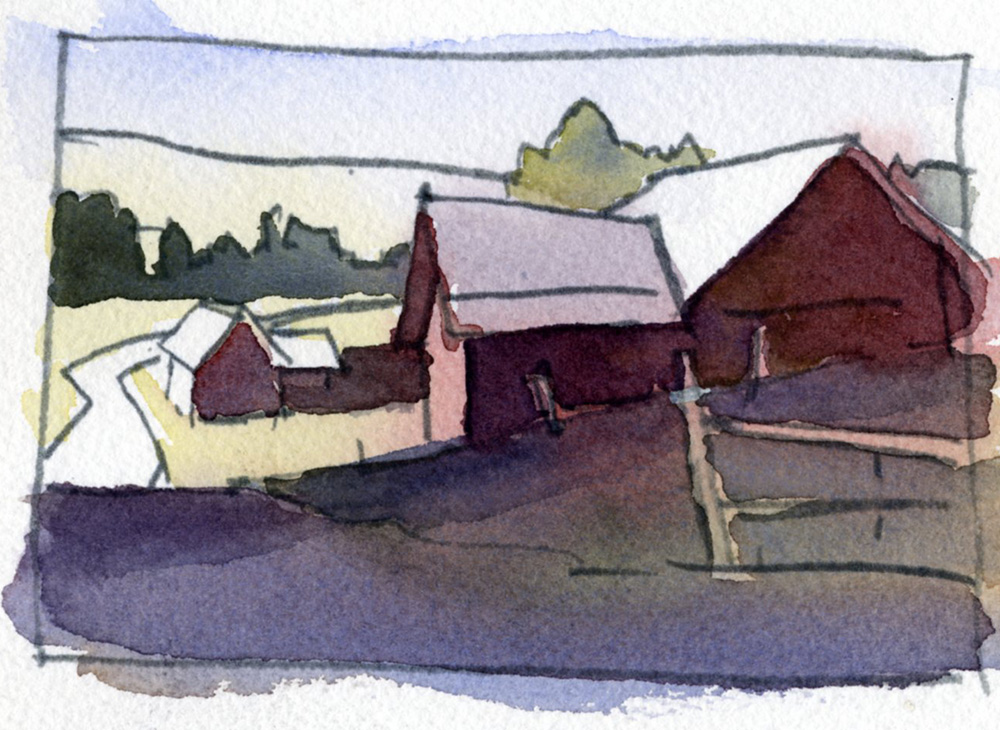 This lesson teaches basic composition concepts to create a value composition and color studies for the painting lesson above.
We'll use shape, color and value in to build strong, dynamic foundations for our paintings. 
It's not pre-requisite, but a good idea to start here. 
Primary Triad Color Scheme
This lesson shows how to create a full range of color from a primary triad color scheme. The color mixtures work well for summer scenes and is the basis for the country scene painted in the lesson above.
Common color schemes like the Primary Triad used in this lesson create great color harmony and serve to 'pull the painting together'. 
Light and Form – Lesson Group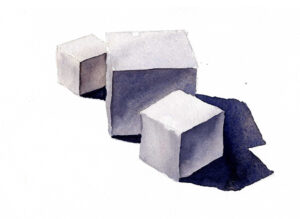 Re-creating the effect of light on objects in a painting means creating the changes in color and value that simulate the actual effect.
There are certain, tried and true ways of creating patterns of light and shadow in our paintings. 
The Light & Form Learning Track includes twenty lessons for understanding and showing the effect of light in paintings. 
Landscape Painting Lessons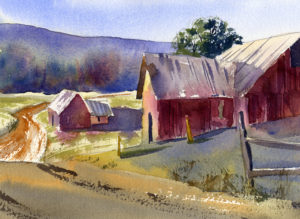 Seascape Painting Lessons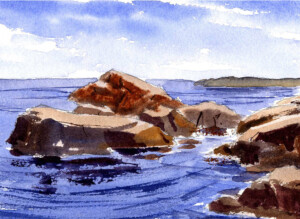 Still Life & Floral Painting Lessons