Paint A Garden Path Scene In Watercolor

 Use Basic Techniques For Professional Results
In this lesson you'll take those basic watercolor painting skills to a new level.  This painting has everything and getting there will be a challenge. We show you how to get the most out of your skills in creating this beautiful garden scene.
We also cover how to get a great sense of light and how to create an illusion of detail with texture.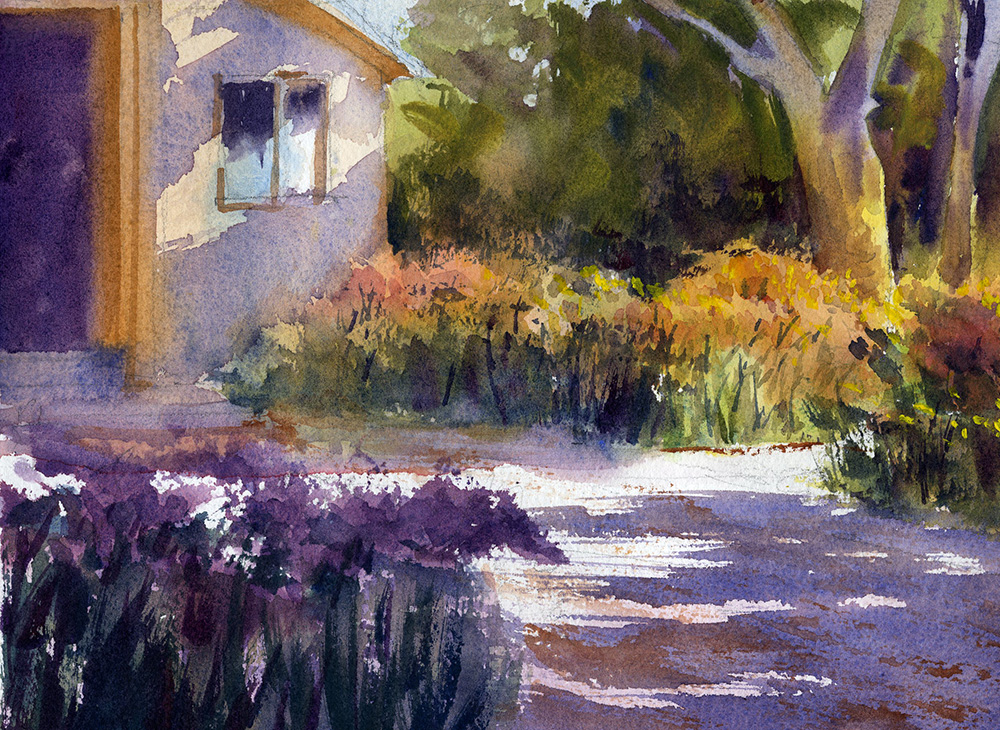 How I Paint
This lesson has been a long time coming. I've been asked if the way I paint in the lessons is the same as when painting on my own.  The answer to that is no. In the lessons, I try to focus on one idea or skill at a time, as I'm working along. This is to help make that one thing really clear.  When painting on my own, I am generally focused on the whole painting at once and thinking ahead.
I've also been asked to do a lesson as if it were my own normal painting session. This is that lesson.
Painting A Complex Scene
All previous lessons have been purposely simplified to make them a bit easier, shorten the viewing time and especially to bring focus to a few important skills or concepts.
This lesson includes a fairly complex scene – with many different subjects and with the application of many different concepts. The lesson is similar to others in that it uses the same few basic watercolor painting techniques that are the foundation of this medium.
Don't be intimidated! More complex scenes are still just arrangements of shapes and can still be approached with a slower and more methodicaly approach. The biggest difference you will notice in this lesson is the pace.  As always, pause the lesson where needed, in order to finish up the work needed, before moving on.
A Cautionary Note
The biggest caution I have:  pay attention to the condition of your washes!  In the lesson, I am often working back into passages adding color, value, texture and so on.  As you'll see, I am working very fast most of the time. If your pace is slower, your washes my change from wet to damp before you have finished working in that area.  WORKING IN DAMP PASSAGES IS ALMOST ALWAYS A BAD IDEA.
If you have been working in a single area for sometime, make sure you check the condition of the wash. Hold the painting up flat in front of your eye so that you are looking across, rather than at, the painting.  If the area you are working is not shining, it is too dry to keep working.
Instead, dry the painting completely and start back in with a light wash of clear water over the whole area and then pick up where you left off.
Drawing Layout For Any Painting
One note on the drawing layout. The downloadable layouts are done with heavy lines to make it easy to see and copy onto your watercolor paper. It is best not to draw the lines too heavy on your paper, especially in the sky, since there is a good chance the lines will show through the paint. It's not a deal-breaker, but those heavy pencil lines are sometimes a distraction.
What you'll need
 Have courage!