Paint A Boat Yard Scene With Direct Watercolor Method

 This lesson will introduce you to the Direct Method
The Direct Method is really about what's known as 'economy of stroke'. More simply, it's about making every stroke count and still pulling together a unified painting.  This lesson shows how.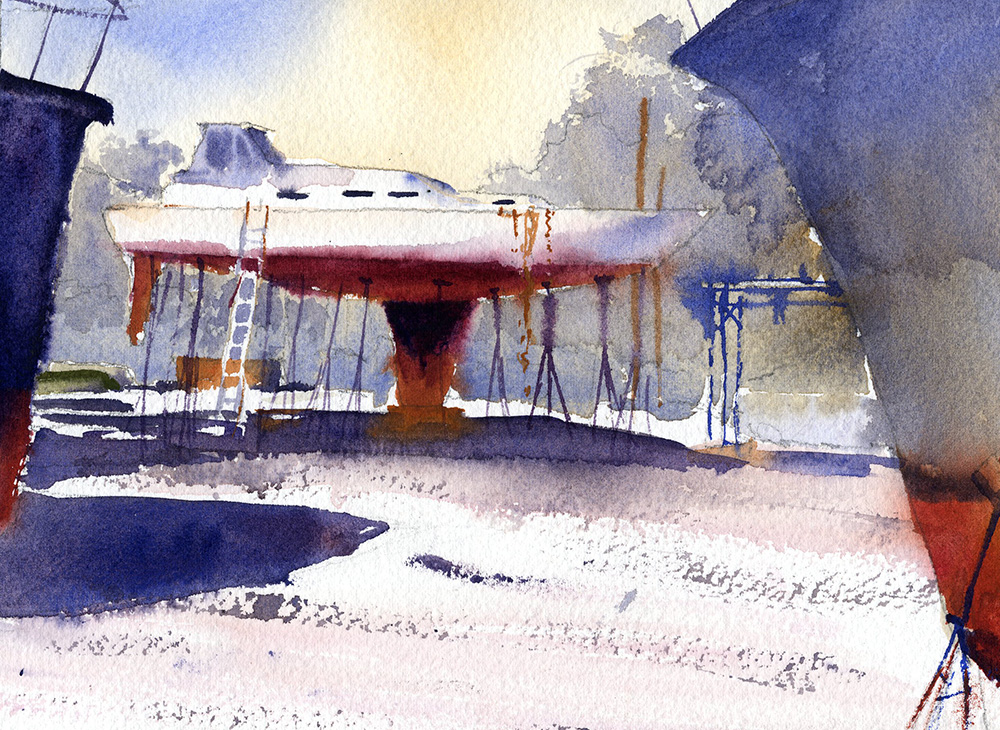 The Direct Method
Have you heard that term before? It's not used often in watercolor circles these days. Current trends in watercolor favor high-resolution, hyper-focus paintings. That kind of work really requires a methodical, layered approach.
In the past, the Direct Method was associated with a much admired skill, often referred to as 'economy' or economy of stroke.  The idea is that every stroke was expressive and counted for more than a single stroke. Artists' with this ability were admired for their skill and for the apparent ease – and speed – with which they created paintings.  In oil painting, the same approach is known as alla prima.
You may have been painting with the direct method for some time without realizing.  There's a strong likelihood that you have employed a direct approach in your sketching, if you are a sketcher.  Take a look at some of your old watercolor sketch books and look for those direct strokes and marks that say so much.
The Direct Method
There are two real challenges with the Direct Method. First, the individual brushstrokes still need to be fluid so that they can be modified, if necessary. Also, so that they will, in places, join other strokes to create expressive shapes. Second, it is important to have a strong value arrangement, in the form of a value sketch, to help unify the finished painting.
The lesson moves fairly quickly – it's one of the benefits of this method.  If you find yourself falling behind, simply pause the lesson and catch up.
The Boat Yard
This scene is based-on a scene painted 'en plein air' some years ago. The sketch and the painting layout have been modified a bit, but is still faithful to the scene.  My en plein air session was on a hot summer day, and I've tried to keep that feel in this painting.  The value sketch has a lot of lights to emphasize the sense of both bright light and heat. The darker values primarily found in the cast shadows and are meant to be contrasts that show off the light areas.  Even the mid-value areas have lighter values that is often the case – again, to emphasize light and heat.
Shapes of boats are a little complicated to draw because of the compound curves found on the bow and keel of most boats.  As always, the drawing layout should help with that if you struggle.
Drawing Layout For Any Painting
One note on the drawing layout. The downloadable layouts are done with heavy lines to make it easy to see and copy onto your watercolor paper. It is best not to draw the lines too heavy on your paper, especially in the sky, since there is a good chance the lines will show through the paint. It's not a deal-breaker, but those heavy pencil lines are sometimes a distraction.
What you'll need
 Get ready, turn on the video and let's jump in!