Painting A Summer Sky And Clouds Wet-In-Wet

 Wet-In-Wet Skies Look Best!
This lesson shows how to paint a summer sky with those billowing clouds using the wet-in-wet technique.  Skies always look best – fresh, light and glowing – when they are painted and left alone. You'll get practice with that in this lesson.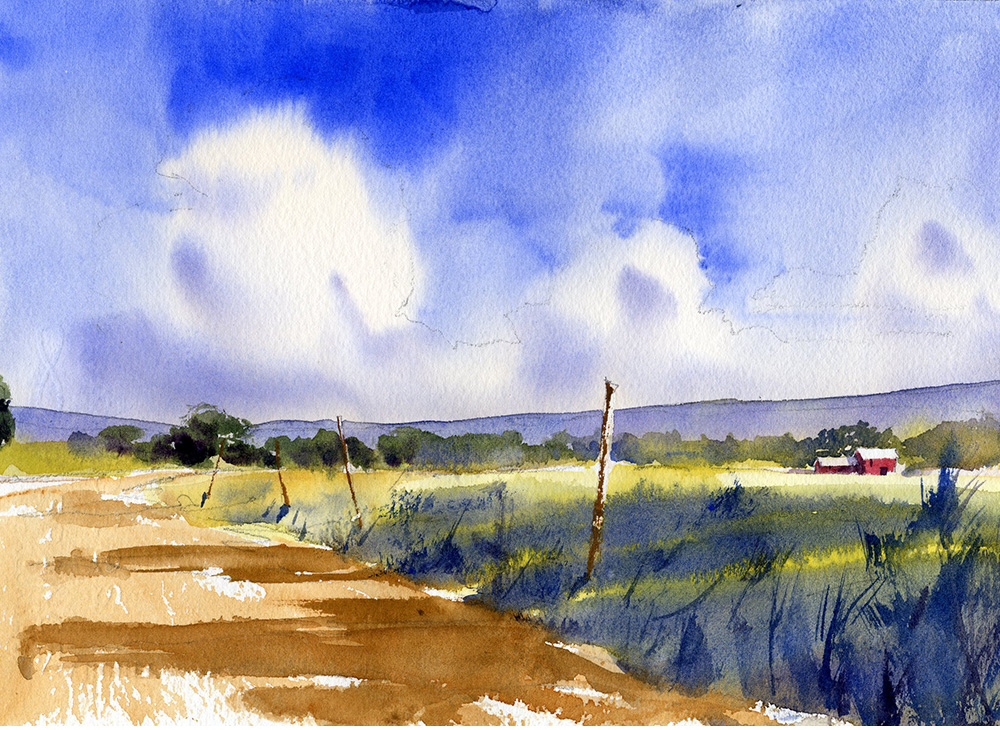 This lesson can be watched with at least a PREMIUM MEMBERSHIP.
Already a Basic Member? Upgrade to PREMIUM from your Account Page.
Already a Premium Member? Click here to login
Not a Premium Member yet? Join below.
The Essence Of A Summer Sky
It's been hot and humid around here lately, so we've had many days of soft hazy skies with puffy, billowing clouds. It inspired me to do another lesson on painting clouds.  Unlike the other cloud painting lessons, this one combines the wet-in-wet and dry-in-wet techniques along with the attempt to finish the sky in one go.
The key to any sky is getting it to look light and transparent. For clouds, it is important to have soft texture in most places.  Fortunately, all three characteristics – light, transparency and softness – are easily accomplished with the wet-in-wet and dry-in-wet techniques.
The painting includes a simple landscape scene so that you end up with a finished painting. And we'll use the same techniques in much of the landscape.
But, the real challenge in this lesson, is learning to work with plenty of water so that you have time to keep working while building up color, texture and value. It is also important to continue working in an effort to complete the sky in the first pass.
It's not that difficult but does stretch our ability when we are used to a slower, more methodical approach.
Drawing Layout For Any Painting
One note on the drawing layout. The downloadable layouts are done with heavy lines to make it easy to see and copy onto your watercolor paper. It is best not to draw the lines too heavy on your paper, especially in the sky, since there is a good chance the lines will show through the paint. It's not a deal-breaker, but those heavy pencil lines are sometimes a distraction.
What you'll need
 Get ready, turn on the video and let's jump in!