How To Fix A Bloom
Blooms in your watercolor painting are unexpected and discouraging. But, they can be fixed. This short lesson shows how to fix watercolor blooms with a step-by-step process. Follow along to see how easy it is!
Fixing Blooms In Your Watercolor Painting
It is best to avoid blooms in your painting – it's one of three common watercolor painting problems that can be avoided.
But, if you happen to end up with one anyway, it is possible to fix it following the step by step process in the video tutorial below.
One thing to keep in mind is that some colors (pigments) are easier to lift than others. Many watercolor pigments are strong stains. They stain the paper and other colors and are nearly impossible to remove completely.
Removing a bloom, even if it involves a staining color is still worthwhile, especially on an otherwise nicely done painting.
A soft brush
Lots of water!
Painting Lemons In A Light Bowl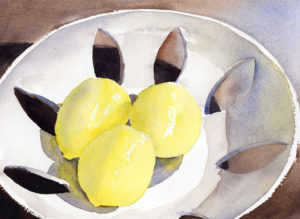 The lesson with the bloom is this one – a simple still life with lemons in a unique ceramic bowl.
It is a simple composition but has so very important lessons in combining techniques for a sophisticated look.
The lesson covers a lot of important techniques, shows how to get highlights on the skin of the lemons, how to shade a light colored object, uses three different edges and graded washes.
The bloom appeared unexpectedly as usual and was fixed as part of the painting process in the lesson.
Enjoy These Free Lessons!
We Also Have Over 200 Premium Online Video Lessons and Tutorials... Monthly, Quarterly, Annual Membership Plans. Pause or Cancel at Any Time.