Create A Value Sketch For A Night Scene
Night scenes differ from daytime scenes mostly in that the colors are muted and darker.  In this lesson we create two different possibilities for a night scene of an urban area. 
Night Scenes In Watercolor
Painting a night scene is a challenging prospect, no doubt. For the most part, we spend most of our time in day time and daylight and have probably developed a decent visual memory for the appearance of a daylight infused scene.
That is probably not the case for night scenes. What we might notice about night time and night scenes is multiple sources of light and the way light and dark areas meet – sometimes suddenly and dramatically, sometimes softly and gradually.  The idea seems impossibly complex.
If you think about it, the lack of light in a night scene is a help in simplifying since many elements and details are swallowed up in large areas of deep shadow.
Value Sketch To Simplify
The best way to  approach any scene – night or day – is to begin by simplifying.  Remember that your finished painting, no matter how realistic, a two-dimensional design.  This design, fundamentally consists of a small group of interlocked shapes of varying value – in essence, a simplified value composition.
Value compositions often start out as simple value sketches. In fact, value sketching and value sketches are the best way to start any painting. Generally, they are small, postcard size or even smaller.  The size forces you to plan the large simple shapes that form the compositional structure.  This is true no matter the subject, scene or time of day.
In this lesson, we'll work through the process of creating two value sketches for a potential night scene painting. The starting point is a pencil sketch done on a downtown street. Since the reference sketch is done in daytime, it will require using some logic, intuition and imagination in deciding on the sources of light along with where and how the light falls on the scene.  It will be very valuable to have a value scale handy.  If you don't have one this lesson shows how to create a simple 5-step scale that will work most of the time. 
Drawing Layout
You'll need two copies of the layout.  It is best to keep the lines light on your paper.
What you'll need
Brushes – Medium Round, Small Round, and  Rigger .
Colors – Since we're working with value only, you need a good neutral color: a mixture of Ultramarine Blue and Burnt Sienna works well; Sepia, Paynes Gray, or Ivory Black alone will also work. 
Watercolor paper – preferably Arches 140lb Cold Press cut to about 7″ x 11″ or so
Get ready, turn on the video and let's jump in!
DOWNLOAD – PROJECT SHEET WITH DRAWING LAYOUT, FINISHED THUMBNAIL
This is a Premium Learning Library Lesson.  Access The Entire Library  With a Premium Membership – Cancel or Pause  at any time.  
More Premium Member Info Here.
 Already a Premium Member? Login Below
Just browsing? Check out these FREE lessons.
Painting The Night Scene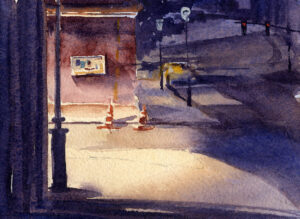 This lesson shows how to create a night scene color study in watercolor base on the value sketch in the lesson above.
Night scenes are a bit difficult – there is a lot of dark neutral color that needs to be balanced with lighter, warmer colors that represent the 'pools' of light that illuminate various parts of the scene. 
The pools of light are usually disconnected from one another in a way that can dis-unify the underlying value composition.
This lesson sticks close to the value sketch that is built on a unifying mid-value shape.  For the most part, these mid-values are at the darker end of the mid-value range, and mostly neutral in color. 
It's a challenging lesson but a great learning tool at the same time. 
How To Paint Water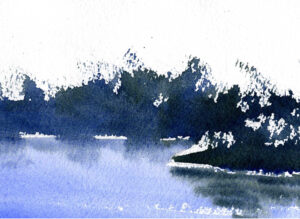 This set of lessons teaches the basic ideas, techniques and methods needed to get great looking water in your watercolor paintings.
Water is one of the more challenging subjects in to paint. It has several important characteristics to dublicate and it very complex - even the stillest of water is constantly moving.
These lessons will guide you through by showing what you need to know and demonstrating the techniques that work.
Landscape Painting Lessons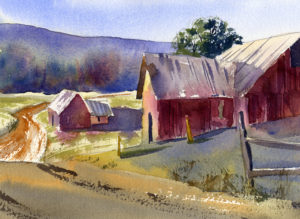 Seascape Painting Lessons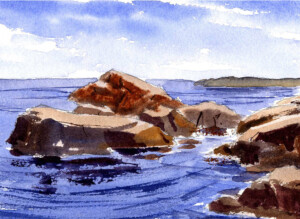 Still Life & Floral Painting Lessons