How To Paint Clear Glass Using Hot Press Paper

Painting Clear Glass Objects
This lesson shows how to paint a clear glass bottle in a loose style on hot press watercolor paper.  The important considerations that make the glass look both transparent and reflective are covered.  We use hot press paper to support a loose, flowing style.
Painting Glass
Painting glass is easier than it seems. This lesson focuses on painting a transparent glass bottle. Since the glass is clear, painting it mostly means painting the things we see around and through glass.
The important things to get right are the reflections that occur on the surface of the glass and the distortions of the things we see through the glass.
It is tempting to approach this subject in a highly detailed and high resolution manner.  This lesson really emphasizes a loose, "painterly" approach with a focus on capturing the essence of the subject.  We'll also give the medium it's freedom which will be helped by working on hot press paper.  to do some of the work and focus on the concept of simplifying.
There are a couple things to keep in mind when painting glass.
DISTORTION
Glass distorts the shapes of objects seen through. Reflective objects, whether they are transparent or not, also distort the shape of the objects reflected.  Think of carnival fun house mirrors. The distortions are useful in that they tell us something about the shape of the object – distorted edges usually follow the contours of object.
 EDGES
Unlike landscape and seascape subjects, our transparent and reflective objects have hard edges and hard texture. They are important in these subjects. It is not difficult to create hard edges and textures in watercolor, but it is good to balance them with softness and soft edges.
Hot Press Paper
Hot press watercolor paper is both interesting and tricky to work with.  It's smooth, pressed surface keeps most water and color from absorbing into the fibers. This means water will sit on the surface and move around more freely than on cold press or rough paper.
We have a short video about the differences between the three types of watercolor paper.
Drawing Layout
The downloadable layouts are done with heavy lines to make it easy to see and copy onto your watercolor paper. It is best not to draw the lines too heavy on your paper, since there is a good chance the lines will show through the paint. It's not a deal-breaker, but those heavy pencil lines are sometimes a distraction.
What you'll need
This is a Premium Learning Library Lesson.  Access The Entire Library  With a Premium Membership – Cancel or Pause  at any time.  
More Premium Member Info Here.
 Already a Premium Member? Login Below
Just browsing? Check out these FREE lessons.
Painting Clear Glass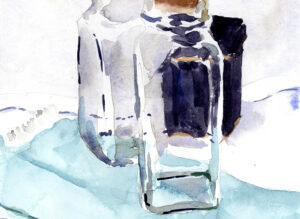 This lesson is similar to the lesson above.  It is all about painting clear glass bottles with a particular emphasis on getting edges, reflections and the objects you see through the glass looking just right without a lot of fuss. 
It sounds unlikely, but the real key is to simplify and capture the most important marks and elements. This lesson really focuses on that and steps through the thought process about what to include. 
It also is on hot press paper so you'll get more practice on that tricky surface.
And the painting uses a bit more color.  Check it out!