Old Mill In Evening Light
Learn how to capture the look of evening light using a limited color palette and a value sketch to guide placement of light, mid and dark values.
Two Subjects
This watercolor painting lesson shows how to paint an abandonded mill building in evening light. One of the most difficult challenges faced by everyone who is learning to paint is focusing on a single subject.  It is much easier to create a strong composition and a unified design when there is but single subject.
In this lesson, there are really two subjects: the old building and the evening light striking it.  Many, many paintings have light as the only subject while the literal objects in the painting are there only as ways to show off the light with patterns of light and shadow reproduced in paint.
This is really the case for this painting project – in essence the subject is evening light striking an old mill building.  It's an important distinction that helps us focus on the important elements, and to eliminate those that do not support the main subject.
Limited Palette
For this painting we'll use a limited palette that consists of three "primary" colors that we'll use to mix all the color we need. Just as limiting your subject helps the unity of the painting, limiting your color palette does also.
The other benefit of a limited palette is that it forces you to use other Characteristics of Color to show light and form.
Using A Value Sketch As A Guide
We'll work from a value sketch, created in this lesson. The value sketch will guide our placement of light, mid-value and dark colors.  Large value shapes are the underlying compositional structure for our painting and are also the basis for showing the light and form on the building and on the landscape.
Value and color are used to show the three-dimensional form of the subject.  It's an important element of any representational painting – it's thoroughly covered in this lesson.
Materials Needed
Brushes – 1″, 3/4″, or 1/2″ Flat Brush, Medium size Round #14 or so.
Colors –  We use a limited palette in this one: Permanent Alizarin Rose, Ultramarine Blue, Quinacridone Deep Gold. If you don't have Quinacridone Deep Gold, a combination of Burnt Sienna and a warm yellow like Cadmium Yellow will give similar results.
Watercolor paper – preferably Arches 140lb Cold Press
DOWNLOAD : DRAWING LAYOUT, ORIGINAL SKETCH, VALUE SKETCH, PRIMARY TRIAD, FINISHED PAINTING
 [/mepr-show]
This is a Premium Learning Library Lesson.  Access The Entire Library  With a Premium Membership – Cancel or Pause  at any time.  
More Premium Member Info Here.
 Already a Premium Member? Login Below
Just browsing? Check out these FREE lessons.
Old Mill In Evening Light Painting Project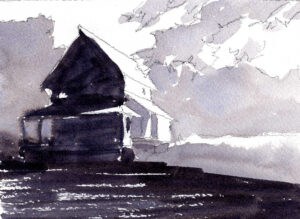 This lesson shows how to create the value composition sketch used for the painting above.
Learning to create value sketches is a very valuable first step in the composition process.
How To Paint Water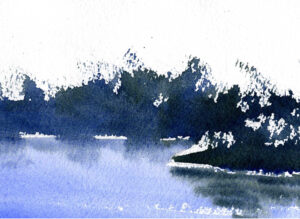 This set of lessons teaches the basic ideas, techniques and methods needed to get great looking water in your watercolor paintings.
Water is one of the more challenging subjects in to paint. It has several important characteristics to dublicate and it very complex - even the stillest of water is constantly moving.
These lessons will guide you through by showing what you need to know and demonstrating the techniques that work.
Color Basics - Lesson Group
Color is an aspect of painting that can take a lifetime of study to really understand.  This group of lessons is meant to introduce you to the various aspects of color and simple ways to explore color schemes, color choices and color combinations for your paintings.
The Lesson Group includes 25 lessons organized by topic and presented in to help build a strong foundation in the basics of color.
Landscape Painting Lessons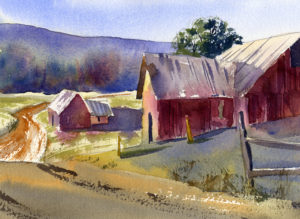 Seascape Painting Lessons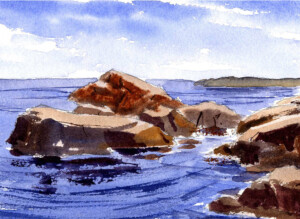 Still Life & Floral Painting Lessons