Th
"Perspective" Farm Scene Value Sketches
The value composition sketches for this scene are from a group of common value patterns that feature a large mid-value field with a large light or dark shape. This lesson shows how it is created. 
Basic Value Composition Pattern #2
In this lesson, we'll construct value patterns for a rural farm scene based on a value arrangement found in many great paintings.
The value composition sketch, and the underlying pattern are deceptively simple but provide a powerful structure and visual impact to the subject of the painting.
Like the simpler Value Pattern Group 1, this one can have three underlying value shapes. This one differs from pattern #1, in two ways: it mostly ignores the idea of "Planes Of Space" and can be built on two, rather than three, values.
The biggest difficulty with Pattern #2 is the freedom of thought necessary to create interesting shapes by combining separate objects.  Practice always helps – this tutorial will get you on the way!
Painting Process For Farm In Morning Light
This lesson is one of five that work through the development of a finished painting. It isn't necessary to follow them in order, but doing so will provide insights into the the whole process of developing composition and color before jumping into the actual painting.
Practical Perspective Part 2 – This lesson focuses on the practical application of two-point linear perspective on the farm scene.
Value Composition Patterns Group 2 – The current lesson
Value To Color Studies For Morning and Evening Light – It can be difficult to maintain values defined in a value composition sketch when workning in color. This lesson practices that skill while demonstrating how to use a simple primary triad to reveal morning or evening light.
Color Study For Farm Scene In Morning Light – This lesson was done with the final painting in mind. It explores a color palette that works well to express cool morning light.
Farm Scene In Morning Light – This lesson steps through the final painting using the layout, a value composition and color study from the lessons above.
 What you'll need
Brushes – a small or medium round
Colors: For neutral gray tone: Ultramarine Blue and  Burnt Sienna well mixed on the palette or diluted Ivory Black, Neutral Tint or Payne's Gray.
Watercolor paper – preferably Arches 140lb Cold Press about 7″ x 11″ about 9″ x 12
This is a Premium Learning Library Lesson.  Access The Entire Library  With a Premium Membership – Cancel or Pause  at any time.  
More Premium Member Info Here.
 Already a Premium Member? Login Below
Just browsing? Check out these FREE lessons.
Value Pattern Group 1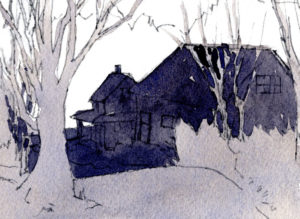 There are many common value patterns that appear repeatedly in great works of art. These are generally grouped and classified by the way shapes and values are massed or separated around the picture plane. Among the simplest to understand and construct are those that divide the picture plane into three planes of space and apply a diferent value to each. For the sake of clarity, they are labeled Value Pattern #1.  Find out more in this lesson.