Color Study For A Farm Scene In Morning Light
Test Color and Value Before Painting
This short lesson is a simple, step-by-step tutorial on creating a color study for a larger work. Creating color studies is a way to test ideas on color, composition, value and the overall concept before committing to a larger painting. 
Color
Color studies are exactly what their name suggests and are an invaluable part of the painting process.  Usually, they are small works done in color (not surprisingly) and focus on the overall concept rather than detail.
Color studies are often created as part of a process that includes line layouts and Value Composition Sketches.  Once the composition is worked out in those prior steps, the artist can focus on the expressive role of color in the final painting AND in translating the overall value composition sketch into separate, discrete color/value ranges.
Exploring The Composition
The composition may seem familiar. It has been used in several other lessons to illustrate concepts about practical uses of linear perspective and value composition sketching.
This lesson has two points of focus:  making sure the choice of color palette creates the light effects, mood, concept, etc that we have in mind for this scene; and letting us practice translating the simple, flat value shapes from the value composition sketch into color.
Color Studies As Process
We are almost always so inspired by our subject and anxious to get started that we jump into the painting without much thought or planning. This approach rearely leads to the best work.
Pre-planning your painting with a process that includes editing your scene, planning the underlying value composition, and exploring color choices is almost always a better route.  This process give you the chance to discover problems before facing that large, expensive piece of watercolor paper.
This painting was developed through a process that includes lessons about linear perspective, value composition sketches, and color studies. This is a stand-alone lesson that can be done without working through the earlier lessons. But, there is value in watching and following them because of the insights gained for this lesson as well as others. The four prior lesssons are linked below.
Process For A Finished Painting
This is one in a series of lessons that work through the process of developing a strong composition for a rural farm scene in morning light. The lessons are listed in order below.  It isn't necessary to work from beginning to end, but it will give you insights into a process that will strengthen your work and will boost your confidence when facing that blank piece of paper!
Practical Perspective Part 2 – This lesson focuses on the practical application of two-point linear perspective on the farm scene.
Value Composition Patterns Group 2 – This lesson discusses a related group of value composition patterns that are found in many paintings.
Value To Color Studies For Morning and Evening Light – It can be difficult to maintain values defined in a value composition sketch when workning in color. This lesson practices that skill while demonstrating how to use a simple primary triad to reveal morning or evening light.
Color Study For Farm Scene In Morning Light – The current lesson
Farm Scene In Morning Light – This lesson steps through the final painting using the layout, a value composition and color study from the lessons above.
Transferring The Drawing Layout
The downloadable layouts are done with heavy lines to make it easy to see and copy onto your watercolor paper. It is best to draw the lines lightly on your paper, especially in the sky, since there is a good chance the lines will show through the paint. It's not a deal-breaker, but heavier lines can be distracting where they show through lighter passages.
What you'll need
This is a Premium Learning Library Lesson.  Access The Entire Library  With a Premium Membership – Cancel or Pause  at any time.  
More Premium Member Info Here.
 Already a Premium Member? Login Below
Just browsing? Check out these FREE lessons.
Value Sketch For Color Study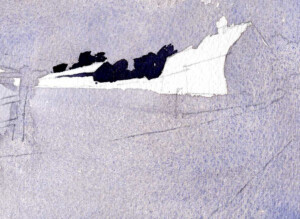 The value composition sketch used to create the color study was itself created in this lesson.
It's not necessary to do the value sketch lesson first.  But the lesson steps through the value sketching process and also covers a set of related and very common Value Composition Patterns.
It's a valuable related lesson -either before or after the color study.
Painting Process For Farm In Morning Light
Value To Color Pairs