Paint A Farm Scene In Morning Light

This Lesson Is The Last Of A Series On The Process Of Painting
Paintings are made easier by exploring composition, value and color before beginning the final painting.  Pre-painting explorations and studies help the finished painting go together quickly since many of the decisions are already made.

Finished Painting – Final Step
It is a common impulse to find a subject and jump into the painting.  This is almost always the wrong impulse and rarely leads to the best results.
The painting in this lesson may seem familiar. The composition has been explored in four previous lessons – from line drawing through value composition studies and color studies.  Each of these steps is part of a painting process that will improve the finished painting, which is the final step in the process.
The Painting Process
Developing a process that includes a number of steps before jumping into the actual painting is more valuable than almost any other skill.  Not only does it solve problems and answer questions about this specfic painting, it will help expand your thinking in composition and color that will affect your approach to future paintings.
A typical painting process invloves several steps prior to starting the finished work. These include:
Drawing the subject/scene – In this step, line drawings are done to explore and test placement of the various objects to emphasize the main subject and create a dynamic composition.
Creating the Value Composition – This step is focused on development of an underlying value structure for the painting that, again emphasizes the main subject while supporting a dynamic composition.
Creating Color Studies – This step allows exploration of different color palettes and mixtures that will express the desired mood and light effects while – once again – emphasizing the main subject and supporting a dynamic composition.
Finished Painting – At this point you will be armed with everything you need to proceed into the finished painting with confidence. The main subject, composition and color set has already been determined. Along the way, many potential problems will have been encountered (and hopefully solved!).
Steps In The Process
This painting was developed through a process that includes lessons about linear perspective, value composition sketches, and color studies. This is a stand-alone lesson that can be done without working through the earlier lessons. But, there is value in watching and following them because of the insights gained for this lesson as well as others. The four prior lesssons are linked below.
Practical Perspective Part 2 – This lesson focuses on the practical application of two-point linear perspective on the farm scene.
Value Composition Patterns Group 2 – This lesson discusses a related group of value composition patterns that are found in many paintings.
Value To Color Studies For Morning and Evening Light – It can be difficult to maintain values defined in a value composition sketch when workning in color. This lesson practices that skill while demonstrating how to use a simple primary triad to reveal morning or evening light.
Color Study For Farm Scene In Morning Light – This lesson was done with the final painting in mind. It explores a color palette that works well to express cool morning light.
Drawing Layout
It is best to keep the pencil lines light when transferring the drawing layout to your watercolor paper. This is especially true for the sky where darker pencil marks  are likely to show through the light, transparent washes.
What you'll need
Brushes –Large, Mediua and Small Rounds,  Rigger
Colors – Permanent Alizarin Crimson, Cerulean Blue, Lemon Yellow, Raw Sienna, Burnt Sienna, Ultramarine Blue
Watercolor paper – preferably Arches 140lb Cold Press cut to about 7″ x 11″ or so
This is a Premium Learning Library Lesson.  Access The Entire Library  With a Premium Membership – Cancel or Pause  at any time.  
More Premium Member Info Here.
 Already a Premium Member? Login Below
Just browsing? Check out these FREE lessons.
Painting Process For Farm In Morning Light
This painting was developed in a series of steps that explored various aspects of composition and color prior to the painting itself. The entire process is covered in these five lessons.
Landscape Painting Lessons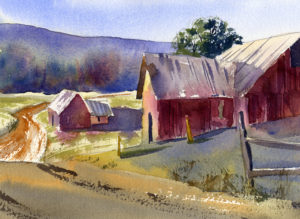 Seascape Painting Lessons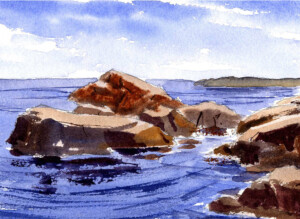 Still Life & Floral Painting Lessons