Value To Color For Morning And Evening Light
Developing Concept In Color and Value
This lesson shows how to create two color studies based on two different value sketches. Each depicts a time of day with slanting light using the same primary triad.  
Color Studies
Color studies are just what the name suggests – studies of a composition that allow exploration and testing of color schemes and color combinations that you might use in a finished painting.  The study will likely tell you what you need to know about the color scheme and how it works with your concept for the painting.
Building Value-To-Color Skill
Color studies also help you build skill in translating value to color.  This is a difficult task, especially when it is something new.  Our minds tend to think literally about the subject once we start working with color – this is often the stage at which we forget about our value composition sketch, instead re-calling our notion of the reality of the scene and subject.
Learning to see the value of a color is an important skill that must be developed like any other. Lots of practice with color studies like these will help.
Process For A Finished Painting
This is one in a series of lessons that work through the process of developing a strong composition for a rural farm scene in morning light. The lessons are listed in order below.  It isn't necessary to work from beginning to end, but it will give you insights into a process that will strengthen your work and will boost your confidence when facing that blank piece of paper!
Practical Perspective Part 2 – This lesson focuses on the practical application of two-point linear perspective on the farm scene.
Value Composition Patterns Group 2 – This lesson discusses a related group of value composition patterns that are found in many paintings.
Value To Color Studies For Morning and Evening Light – The current lesson.
Color Study For Farm Scene In Morning Light – This lesson was done with the final painting in mind. It explores a color palette that works well to express cool morning light.
Farm Scene In Morning Light – This lesson steps through the final painting using the layout, a value composition and color study from the lessons above.
Transferring The Drawing Layout
One note on the drawing layout. The downloadable layouts are done with heavy lines to make it easy to see and copy onto your watercolor paper. It is best not to draw the lines too heavy on your paper, especially in the sky, since there is a good chance the lines will show through the paint. It's not a deal-breaker, but those heavy pencil lines are sometimes a distraction.
What you'll need
Brushes –

Small Round, and Extra Small Round.
Colors – Quinacridone Burnt Scarlet (or a mixture of Permanent Alizarin Crimson and Burnt Sienna), Quinacridone Deep Gold (or a mixture of Raw Sienna and any cool yellow), Indanthrene Blue (or a mixture of Ultramarine Blue and a little Burnt Sienna)
Watercolor paper –

 

Arches 140lb Cold Press

works really well to help manage loose, flowing washes. The thumbnails are about 2 3/4″ h x 4″ w
This is a Premium Learning Library Lesson.  Access The Entire Library  With a Premium Membership – Cancel or Pause  at any time.  
More Premium Member Info Here.
 Already a Premium Member? Login Below
Just browsing? Check out these FREE lessons.
Value Sketches For This Scene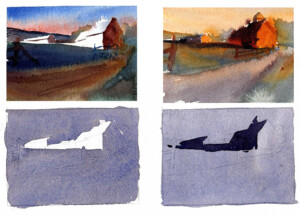 The value sketches for these color studies are part of Value Pattern Group 2.
They are reviewed in this tutorial. It also includes step-by-step creation of two slightly more complex value patterns from Group 2.
Painting Process For Farm In Morning Light
This painting was developed in a series of steps that explored various aspects of composition and color prior to the painting itself. The entire process is covered in these five lessons.
Value To Color Practice Sets