Two-Value Composition Thumbnail Sketch For A Winter Scene
How To Create A Dynamic Composition In Two Values
You may already be familiar with Value and Value Composition already. If so, then you already know that most Value Composition Thumbnail Sketches include three values – light, mid-value, and dark.  It is possible to create effective and dynamic compositions with only two-values. Two-value composition sketches make it easy to bring focus to the main subject.
This short tutorial steps through the process of creating a two-value composition thumbnail and compares it to a couple typical three value compositions.
This is a Premium Learning Library Lesson.  Access The Entire Library  With a Premium Membership – Cancel or Pause  at any time.  
More Premium Member Info Here.
 Already a Premium Member? Login Below
Just browsing? Check out these FREE lessons.
Winter Trees In A Winter Landscape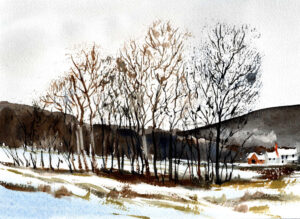 The two-value composition sketch in the lesson above is used as the basis for the landscape scene in this lesson.
A two-value composition works well to emphasize the group of foreground trees. 
The painting lesson also covers using a limited palette of blues and earth colors to create the look of a somber winter day while still creating subtl color and just enough variety to keep the eye interested and moving. 
The lesson also covers a way to use the lift technique to create the chimney smoke drifting out from the distant farmhouse. 
It's an easy lesson that uses basic watercolor painting techniques for great effect. 
Value Sketching
Value To Color Basics