Winter Trees In A Winter Landscape Watercolor Painting Lesson
A Variety Of Grays, Browns and Neutrals In A Dynamic Composition
This painting is based on a photo of a gloomy early winter scene. The painting is made interesting and dynamic with a simple value composition and lively neutral colors made by mixing 'earth tones' with blues.
Value Contrast For Focus
In this painting lesson, we'll use a simple two-value composition to create a main subject and center of interest out of a group of trees. In the reference photo, the trees are simply part of the landscape and seem to melt into the surrounding scenery.
In preparation for this painting, we created a simple, two-value composition sketch that would emphasize the tree line while keeping the eye moving through the scene.
Color For Winter
Our painting is a gloomy winter day scene. To pull it off, most of the colors need to be grays and browns. We'll make sure to avoid monotony by creating a variety of neutrals with subtle color out of three 'earth tones' and two blues.
Learn more about how to explore and mix color for the winter landscape with this lesson.
What you'll need:
This is a Premium Learning Library Lesson.  Access The Entire Library  With a Premium Membership – Cancel or Pause  at any time.  
More Premium Member Info Here.
 Already a Premium Member? Login Below
Just browsing? Check out these FREE lessons.
Two-Value Composition Thumbnail Sketch
The lesson above is based on a two-value composition created to make the group of foreground trees the main subject and focal point.
In this lesson, learn how to step through the process and thinking behind the value composition.
Value Composition Thumbnail Sketches are very important tools for the artist.  If nothing else, investing a small amount of time in creating them allows us to work out some of the  compositional problems before we face that blank sheet of paper.
Even more valuable is the way our thinking and creativity is expanded each time we experiment with a composition.
How To Water (and More)
This a group of lessons includes a series on painting water as well as many other important elements of the landscape - trees, rocks, grasses and more. 
They are basic, easy lessons that use basic techniques. They are accessible by anyone are really great for beginners. 
Practicing a particular subject or skill in isolation makes it easy to concentrate on that one thing in order to master it before working on more complex scenes. 
Landscape Painting Lessons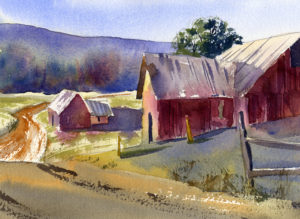 Seascape Painting Lessons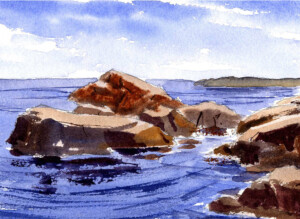 Still Life & Floral Painting Lessons