Light & Form – Simple Pyramid Shape

Use Color and Value Changes To Show Light and Form
Work with lighter colors and learn how to create value changes for light and shadow and to darken light colors 
Color And Value For Light And Form
In this lesson, you'll learn to use changes in the VALUE of a single COLOR to create the effect of light on a simple pyramid shape. It is another level of challenge since we'll be working with light hues that need to be darkened in areas of shadow. It is a challenge to darken light hues while retaining their character. 
Two other lessons cover the basic idea and basic value pattern – The Anatomy of Light and The Anatomy of Light On Angular Shapes. It's important to understand the pattern and the elements of light and shade used to create the illusion of three dimensional form.
Value Patterns In Color
The two previous lessons covered and worked only in value using a range of grays which is a challenge of its own.
In this lesson,  you'll work with a two light colors and some darker earth colors that will help darken the lights while retaining the character of the original.
It's a good idea to review this lesson which introduces the basics of darkening light colors before starting this one.
Simple Shapes
Another important aspect of this lesson is the idea of simple shapes.  Simple shapes, like the cubes in this lesson, are the underlying form and structure of more complex objects.
The simple pyramid shape is the basic shape for many more complex objects. For landscape painters, it will look immediately familiar as rooves on barn cupolas and vents. Tall pyramids form spires on churches,  They also form portions of lamps and vases and many other complex objects.Once you have learned how to re-produce the effect of light on a simplepyramid, like this one, you'll find it easier to reproduce the effect on any "real" pyramid shaped object.
What You'll Need:
Paint – Cadmium Yellow, Alizarin Crimson, Raw Sienna, Quinacridone Deep Gold, Quinacridone Burnt Scarlet
Brushes – a single Medium round brush is all you need
Paper – A small sheet of 140lb Cold Press Paper; Arches 140lb Cold Press is recommended
This is a Premium Learning Library Lesson.  Access The Entire Library  With a Premium Membership – Cancel or Pause  at any time.  
More Premium Member Info Here.
 Already a Premium Member? Login Below
Just browsing? Check out these FREE lessons.
How To Darken Light Colors
It can be a challenge to darken any light color while still retaining its character.There are several ways to handle these areas sensitively and effectively. When you look at your palette, you probably see a lot of light colors. In fact most watercolor paints available are on the light end of the value scale. This is particularly true with the warm colors – yellows, oranges and reds.
There are four ways to darken a light color while retaining its character. Each method involves mixing the original light color with another color and creates a different result from the others.
This lesson shows how to work with all four methods.
Learn To Show Light & Form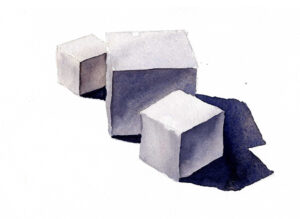 This is group of lessons designed to help you learn the fundamentals of light and form.
This includes learning the Anatomy of Light and a simple value pattern that works every time!
You'll also learn how to apply the value formula when working in color – you might be surprised how challenging it is!
Taking the time to learn these fundamentals will add to your skill and the development  of your work.