Light & Form – Simple Cone Shape

Use Color and Value Changes To Show Light and Form
Learn to create a look of light and three dimensional form with a single color and shifts in value. 
Color And Value For Light And Form
In this lesson, you'll learn to use changes in the VALUE of a single COLOR to create the effect of light on a simple cone shape.  
The effect of light on any scene results in a distinct pattern of light, middle and dark value that our eyes recognize. Most paintings are done in color, so the value changes must be reproduced within the color.  
Two other lessons cover the basic idea and basic value pattern – The Anatomy of Light and The Anatomy of Light On Angular Shapes. It's important to understand the pattern and the elements of light and shade used to create the illusion of three dimensional form.
Value Patterns In Color
The two previous lessons covered and worked only in value using a range of grays. This is a challenge in itself and one worth practicing until it becomes second nature.
In this lesson,  you'll work with a two colors – a blue which is supposed to stand in for the local color of the cone and a second color which will help darken and neutralize blue for certain areas of shadow.
You may be surprised at the level of challenge it is!
Simple Shapes
Another important aspect of this lesson is the idea of simple shapes.  Simple shapes, like the cubes in this lesson, are the underlying form and structure of more complex objects.
The simple cone shape is the basic shape for many more complex objects.  Flattened cones form the tops of silos, rounded spires on churches and other buildings are cones that have been stretched to be very tall. Cones also form portions of lamps and vases and many other complex objects.Once you have learned how to re-produce the effect of light on a simple cone, like this one, you'll find it easier to reproduce the effect on any "real" cone-shaped oject in your painting.
What You'll Need:
Paint – Ultramarine Blue, Burnt Sienna
Brushes – a single Medium round brush is all you need
Paper – A small sheet of 140lb Cold Press Paper; Arches 140lb Cold Press is recommended
This is a Premium Learning Library Lesson.  Access The Entire Library  With a Premium Membership – Cancel or Pause  at any time.  
More Premium Member Info Here.
 Already a Premium Member? Login Below
Just browsing? Check out these FREE lessons.
Learn To Show Light & Form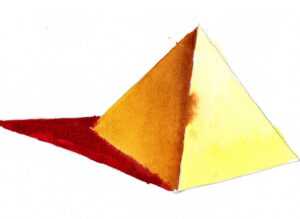 This is group of lessons designed to help you learn the fundamentals of light and form.
This includes learning the Anatomy of Light and a simple value pattern that works every time!
You'll also learn how to apply the value formula when working in color – you might be surprised how challenging it is!
Taking the time to learn these fundamentals will add to your skill and the development  of your work.