Paint A Yellow Iris Loose And Free

Create An Impressionistic Painting Of A Yellow Iris With Easy Technique
Paint Loose
There is nothing looser that watercolor paint flowing free on wet paper.  
This lesson uses only two basic watercolor painting techniques – wet-in-wet and dry-in-wet. Combined in a particular way, allowed freedom and handled with skill, these two techniques can produce powerful, expressive paintings. 
Loose, flowing washes are a unique characteristic of transparent watercolor. It is impossible to obtain in any other medium. Watercolor painters desire this effect in their work but often find it difficult to "let go".  This lesson will help. 
Fresh Paint
One of the keys to making this paint both loose and vibrant is in using paint freshly squeezed from the tube.  It will ensure the wet-in-wet passages stay colorful and vibrant.
Thick, freshly squeezed paint stroked into wet passages is perfect for creating dark contrasts and to form edges that create recognizable shapes for the flowers and stems. This is the essence of the dry-in-wet technique. 
Many watercolor painters work with the dried color on their palettes. Even when moistening the dry color before painting, it is difficult to get full intensity color saturation.
Working with the freshly squeezed paint in this lesson may open a new process and new of working for you. 
Same Subject, Different Painting
This subject is the same as in another recent lesson – Painting Yellow Irises In Watercolor.  The result in this lesson could barely be more different! 
No matter how one likes to paint – tight, loose, or somewhere in between – it is always beneficial to try new techniques or new approaches with familiar techniques. Not only does it increase skill, but also expands one's thinking about many aspects of painting, composition and art. 
What you'll need:
Brushes – Large, Meduim and Small FLATS
Colors – Cadmium Yellow, Lemon Yellow or Aureolin Yellow, Permanent Alizarin Crimson, Winsor Newton French Ultramarine Blue, Cobalt Blue, Raw Sienna, Burnt Sienna
Watercolor paper – preferably Arches 140lb Cold Press cut to about 11″ x 7″ or so
This is a Premium Learning Library Lesson.  Access The Entire Library  With a Premium Membership – Cancel or Pause  at any time.  
More Premium Member Info Here.
 Already a Premium Member? Login Below
Just browsing? Check out these FREE lessons.
Painting Yellow Irises With Control And Layering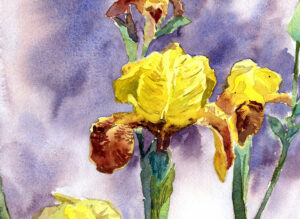 Painting "Tight"This lesson shows how to paint a group of yellow irises in a 'tight' manner. That may seem to mean taking control from the medium – the water – and restricting mixing and mingling.  In fact it is not that.
Instead, it really involves being 'tight' along the outer edges of the shapes while still allowing washes to flow freely within the edges and building up color, value and detail using fluid layers of paint.
Learn to use basic and free techniques in a contolled, layered approach. The result is a 'tight', high-resolution painting with a strong sense of realism.
This lesson shows how.
Easy, Fresh Wet-In-Wet Watercolor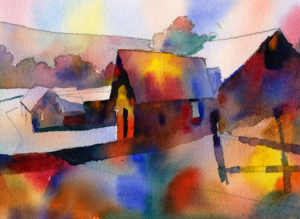 This easy, step-by step lesson takes the basic wet-in-wet watercolor technique to a new level. The technqiues are similar to the Loose Iris lesson above. 
We use lots of color and take advantage of the unique, free-flowing character of watercolor to create an exciting image.
It's an easy painting lesson but builds in an important basic composition idea. Nearly every successful painting is built on a simplified underlying value structure. This lesson puts that idea into practice. The wet-in-wet, color patch technique frees you from concern about color and allows focus on value and the large value shapes that form the all-important 'bones' of the painting.
Landscape Painting Lessons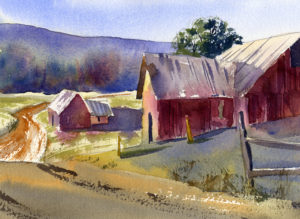 Seascape Painting Lessons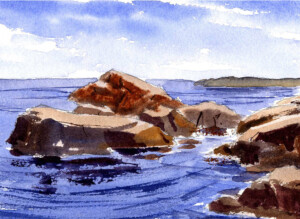 Still Life & Floral Painting Lessons