The Secondary Triad Color Scheme
Learn about this unusual but interesting color scheme based around the three Secondary Colors. 
Color Schemes
Color Schemes are  simple "formulas" that make it easy to select the set of colors that will be used in your painting. Specific color schemes are used to simplify choices while ensuring color harmony.  
The four general color schemes are : Monochromatic, Complementary, Analogous and Triadic.  Find out more about examples of these with the Color In Watercolor lessons. 
The Secondary Triad is a triadic color scheme. Triad color schemes are extremely useful and versatile, with most of them providing access to a near full range of Hues, Values, Chroma and Temperature.
Using three colors in various combinations, along with skillful arrangement of value will enhance the power of the painting by:
Creating a great sense of color harmony and unity
Creating and reinforcing color contrast
Allowing a full value range
Creating paintings that feature a range of neutralized colors and colorful neutrals
Secondary Triad
The Secondary Triad is one centers around three colors – Orange, Green and Violet.  Basic Color Theory teaches that these colors are 'secondary' since they can be mixed with combinations of two Primary Colors.
The Secondary Triad is limited in that it does not provide a full range of color – there is no blue, yellow or red.  But, some of the intermediate mixtures are surprising and the over all color set is harmonius.
Color harmony is one of the most important reasons to use a limited palette like this one.  Another is that it forces the artist to consider other Characteristics of Color in developing the painting.
What you'll need:
Brushes – Medium and Small Rounds
Colors – Cadmium Orange, Thalo or Dioxazine Violet, Thalo Green – or mixtures of two Primaries for each.
Watercolor paper – preferably Arches 140lb Cold Press cut to about 8″ x 6″ or so. We'll be working with LOTS of water!
This is a Premium Learning Library Lesson.  Access The Entire Library  With a Premium Membership – Cancel or Pause  at any time.  
More Premium Member Info Here.
 Already a Premium Member? Login Below
Just browsing? Check out these FREE lessons.
Quick Sketch Of An Orange Day Lily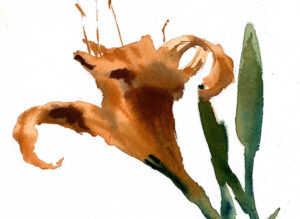 The color scheme for this sketch is the same Secondary Triad explored on the color wheel above.
The main idea for this sketch is to explore the Secondary Triad on an actual subject, but we'll work on some other skills along the way – especially working loose and free.
It can be hard to define just what a sketch is. They can be very minimal and almost abstract, or developed to the point that they look like finished paintings. Most sketches are meant as explorations or studies with a focus on a particular subject, skill or concept.
Although they need not be 'quick', working quickly in watercolor almost certainly requires working wet-in-wet and with confidence. No matter the starting idea, working quickly also develops several other skills valuable when working in a medium, like watercolor, that requires both confidence and freedom.
Triad Color Schemes
One of the best and easiest ways to bring powerful color harmony  is to base your paintings color scheme on a triad of colors fairly widely separated from each other on the color wheel.
Triad color schemes are extremely useful and versatile, providing access to a near full range of Hues, Values, Chroma and Temperatures.
Using three colors in various combinations, along with skillful arrangement of value will enhance the power of the painting by: Creating a great sense of color harmony and unity; Creating and reinforcing color contrast; Allowing a full value range; Creating paintings that feature a range of neutralized colors and colorful neutrals
Landscape Painting Lessons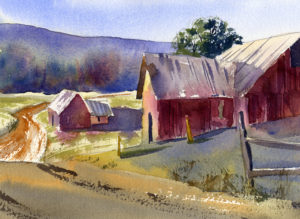 Seascape Painting Lessons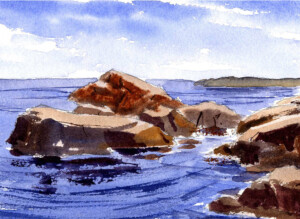 Still Life & Floral Painting Lessons