Understanding Color In Watercolor

Learn How To Use Color In Your Paintings

The study and application of color in paintings is deep and complex. For that reason alone, many artists tend avoid serious study of color. It is important to have at least a basic knowledge of color. Even a basic knowledge of color will help you use it more effectively in your paintings.
Learning Tracks For Color
This section is actually divided into several sections to help the learning process. It is recommended to follow them in order as they tend to build on one another.
Advanced Color Wheel – The first section includes three lessons on creating an Advanced Color Wheel.  Don't be intimidated by the word 'Advanced'.  The Advanced Color Wheel is built on six basic colors.
Color Schemes – Many paintings are based on a limited set of colors. Although it seems counter-intuitive, limited color palettes actually increase the possibilities for color expression and enhance overall harmony.
Primary Triads – The Triad Color scheme is very common in paintings. It is simple and direct and employs a set of primary, secondary or tertiary colors.  This learning track explores a variety primary triads and offers suggested uses.
Characteristics of Color – In going through the previous learning tracks, you've been working with various aspects of color, probably without realizing it.  Your skill with color will really improve when you understand these different aspects – or characteristics  – of color. This learning track gives you the basics of each of the four Characteristics of Color.
Learning Track: Advanced Color Wheel

The three lessons in this learning track step through the process of creating a color wheel starting with only six colors : two reds, two yellows, and two blues.  As explained in the lessons, nearly every "primary" color available is actually a tertiary color. It is important to know how to work with and mix them to get the effect you need in your painting.
Learning Track : Color Schemes

Color Schemes are nothing more than simple "formulas" that make it easy to select the limited set of colors that will be used in your painting. The four schemes shown in this learning track are well-tested and proven to work. These lessons show how to use different schemes for expanded color expression.
Complementary and Split Complementary Schemes

Complementary Color Scheme BasicsThis watercolor lesson explores the basics of the complementary color scheme. It is a simple scheme with ...

Go To Lesson
Analogous Color Schemes

Analogous Color Scheme BasicsIn this short lesson, we'll take a look at the Analogous and Analogous with Complement Color Schemes ...

Go To Lesson
Tetrad Color Schemes

The Complex Tetrad Color Scheme Competing Color Contrasts Make This One Powerful, But Difficult This lesson can be watched with ...

Go To Lesson
Tetrad Color Scheme Useful, Powerful But Tricky For Energy and Excitement - But Use With Care!The Tetrad Color Scheme is ...

Go To Lesson
Triad Color Schemes

The Triad Color Scheme A Versatile Approach To Color In Your Watercolor Paintings This lesson can be watched with at ...

Go To Lesson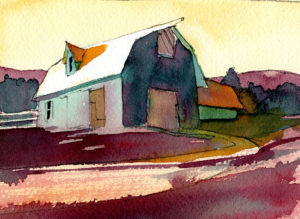 Watercolor Color Study With Three Colors Use Color Triads For Range, Unity, and VersatilityOne of the best and easiest ways ...

Go To Lesson
Learning Track: Primary Triads

This section has four lessons. They build on the information in both the Advanced Color Wheel and Color Schemes sections. As mentioned before, building your color composition on a limited set of colors has a number of benefits: it will create great harmony in your paintings; it will develop your color sense and color mixing ability; it will also develop your ability to use VALUE to express light, form and mood; believe it or not, it will expand your expressive possibilities. Take the time to work through these lessons and then use the process to create your own triad with other choices of colors on your palette.
Most painting lessons here on Watercolor Methods are based on very limited color palettes. Often we use an expanded triad – one that includes perhaps two versions of one of the primaries.
The Characteristics of Color
Usually, we think and talk about color in one dimension, using a word that is usually the color name: red, yellow, blue, etc. This single dectiptor is the Characteristic known as Hue. When we take up painting, our instructors encourage us to think about another dimension – Value.  So you are probably already familiar with two of the four characteristics of color. Depending on the book you read or the instructors who have taught you, there is one or two more – Chroma and Temperature.  Some color methods don't include temperature as one of the characteristics of color. But it is included in this set of lessons because it can be used deliberately to help show light and form as well as to create mood.
Follow this set of five  lessons to get a basic understanding of the Four Characteristics of Color and how they can be used for good effect in your paintings.