Paint A Lively Summer Scene

 Simple Techniques Used Well For A Sophisticated Effect
We use our basic techniques again in this lesson, but we'll also use them together and work fairly quickly to get this great looking summer scene.  It's a bit more of a challenge than usual, but have courage and give it a try!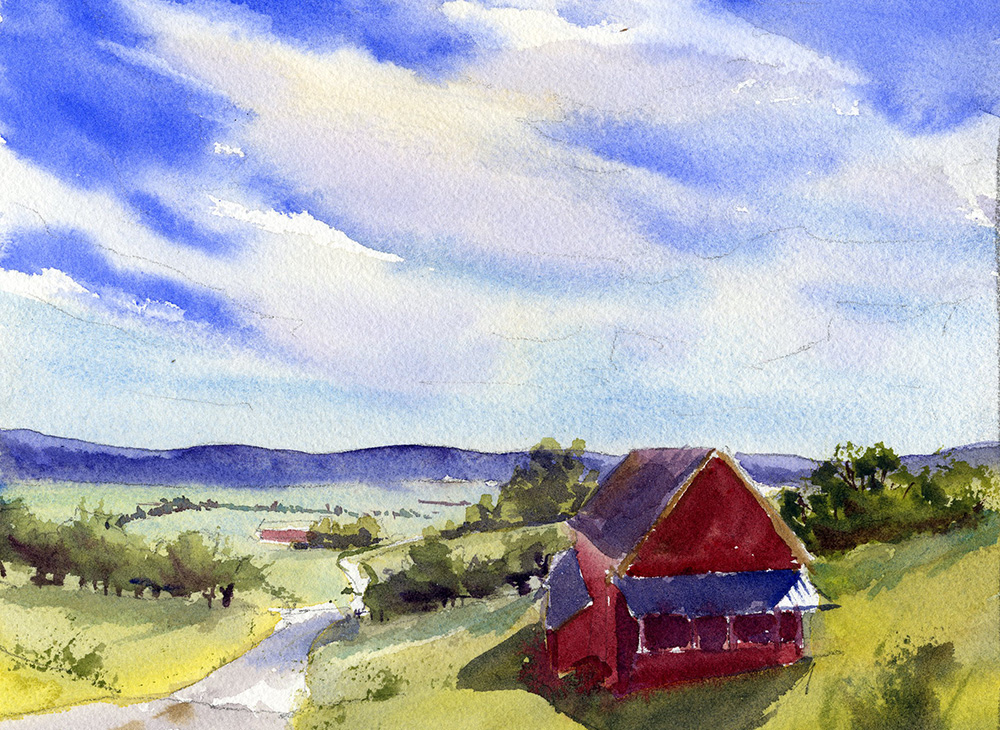 A Painting For Glorious Summer… 
With summer on the wane, I'm looking forward to fall and autumn scenes, but just had to do one more summer scene before letting go.  
This one is a summer vista where we'll paint lot's of distance and try to capture the feel of warm bright sunlight.   At the same time, we'll emphasize the sky and the arching clouds. 
Often times, the sky is simply a backdrop for the rest of the landscape. In this scene, the sky takes more than an equal share of attention.   
… With A Sky To Match
We'll feature the sky by activating it with arching, fluffy clouds.  The techniques are those easy, basic techniques we use in every painting.  This time, we'll be working quickly, combining and working different techniques – wet-in-wet, dry-in-wet and lift – all at the same time.  The pace and the need to act and react a bit faster than normal will make this lesson more of a challenge. 
Drawing Layout For Any Painting
One note on the drawing layout. The downloadable layouts are done with heavy lines to make it easy to see and copy onto your watercolor paper. It is best not to draw the lines too heavy on your paper, especially in the sky, since there is a good chance the lines will show through the paint. It's not a deal-breaker, but those heavy pencil lines are sometimes a distraction.
What you'll need
 Have courage and jump in!